Allied healthcare professionals are the support pillars of a healthcare team who offer comprehensive and patient-centred care. They play a vital role in treating, rehabilitating, and improving a patient's life. In fact, healthcare workers, in particular, are in contact with patients on a day-to-day basis. Also, they are well placed to recognise the issues of both mental distress and mental illness amongst patients with chronic diseases. 
This blog discusses the prevalence of mental health problems in patients with chronic illness and how allied healthcare professionals can recognise, assess and support them.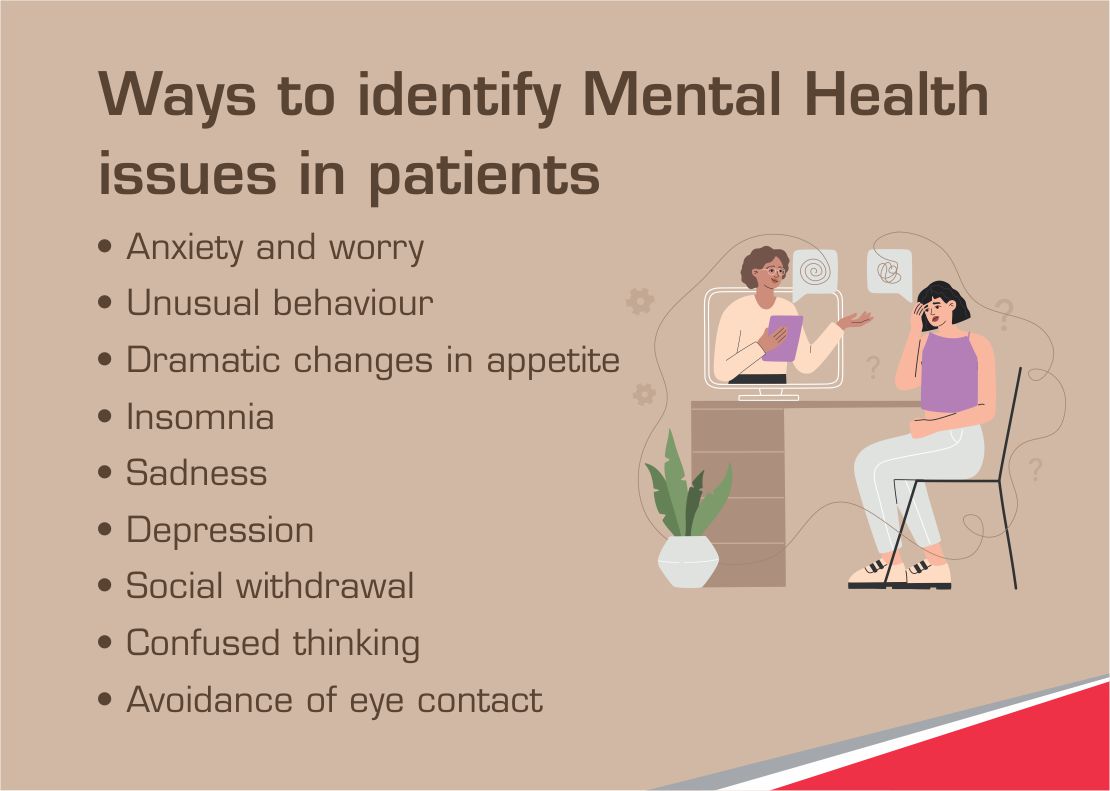 Why allied healthcare professionals should evaluate their patient's mental well-being?
Diseases can have a detrimental impact on patient's physical and social functioning. As a result, people experiencing long-term physical conditions are more likely to develop mental health problems. In fact, people with chronic disease are more likely to experience depression, anxiety, etc. Therefore, it becomes an equivalent responsibility of allied healthcare professionals to evaluate the patient thoroughly, both physically and mentally. 
Moreover, a combination of physical and mental health problems can increase the difficulty in managing a patient's illness and treatment. Since patients come in direct contact with allied healthcare professionals daily, they can identify patients suffering with mental health problems. Hence, they must ensure appropriate assessments, care and support to enhance the patient's physical and psychological well-being. 
Ways an allied healthcare professional can identify if a patient has mental health issues
Patients during their hospital stay might experience stress and anxiety. The following signs will help a allied healthcare worker understand if a patient is struggling with their mental health and can advise them to seek mental health treatment:
Excessive paranoia, anxiety, or worry

Extreme changes in mood

Unusual behaviour

Dramatic changes in appetite

Changes in sleeping pattern or insomnia

Sadness or irritability

Social withdrawal

Suicidal thinking

Depression

Confused thinking

Avoidance of eye contact
What can allied professionals do if symptoms of mental health issues exist?
If a patient experiences several symptoms simultaneously, it is a sign that they suffer from moderate to severe mental health issues. In such a case, a paramedic should advise a patient to consult a mental health professional because, without mental well-being, physical ailments cannot be cured completely. In addition, patients with suicidal thoughts or intents need immediate attention, and a paramedic must immediately bring this to doctor's notice. 
Conversely, if a patient shows a few symptoms, it indicates a patient has mild mental health issues and needs further evaluation. An allied healthcare professional can advise various self-care strategies to help patients cope with these issues and live a high-quality life.
Coping techniques for mild mental health issues
An allied healthcare professional can advise their patients to practice various coping techniques, including lifestyle changes and ways to overcome mental distress. And, also use these techniques for themselves to reduce stress and fatigue. 
Below are a few ways of self-care to improve mental well-being:
People should maintain a healthy work-life balance by setting boundaries. They must know what they can do and what they cannot handle. They must set limits and stay confined within those. For example, learning to say no if tired or overwhelmed will enable them to care for themselves first. In addition, minimizing interruptions, such as reducing email checking frequency, turning off phone notifications, etc., at night lets them relax, rejuvenate and reduces fatigue. 

Physical Activity and Meditation
Exercising regularly positively impacts physical and mental health. In addition, it also stimulates the release of endorphins which elevates moods and reduces anxiety. It enhances cognitive, social, physical, and emotional well-being. Moreover, practicing meditation and implementing mindfulness dramatically reduce stress as well as fatigue.

Know Your Threshold for Stress
Stress threshold, in simple words, is the level of stress your body can take before your muscle contractile efficiency gets affected. Knowing the stress threshold helps patients to identify stressors that overwhelm, run down, or make them irritable. It certainly helps them to cope with their stress better. 

A sound and good night sleep is essential for physical self-care. Since patients already suffer from some illnesses, they need complete rest to rejuvenate, so they must adopt good sleep habits by keeping a regular sleep schedule. Moreover, sleeping for 8-hours allows the body to recover and reduces the likelihood of fatigue. 

When you connect with people, you have people to talk to, lean on and confide in. Talking to your family, friends, or colleagues/co-workers reduces isolation. Moreover, emotional support and meaningful fun conversations are imperative for mental and emotional well-being. Therefore, nurturing relationships is an excellent way for patients to practice self-care. 

Wrap Up:
Allied healthcare professionals work tirelessly to care for patients. But unfortunately, they often ignore self-care while caring for others. In fact, they must lead by example and first care for themselves. They can practice these coping techniques to improve their mental well-being as they work 24/7. Also, they must maintain a healthy work-life balance to lead a happy life and provide quality care to the patients. 
टेक महिंद्रा फाउंडेशन SMART Academies for healthcare organised a webinar to enlighten aspiring paramedics and allied healthcare workers on the importance of mental well-being evaluation of patients. This blog highlights the ways to assess mental well-being and strategies to improve it, which I disseminated during the webinar.