We are already living in the world of digital era since late 20वां century, but this COVID pandemic has further pushed and taken a leap ahead in digital revolution. In the last 2 years, we have accepted and adopted the digital education, digital workforce, and digital networking, wherein we have been learning, working, sharing, socializing, mentoring,  and celebrating digitally. And, subsequently, we have understood and accepted the power of digitalization.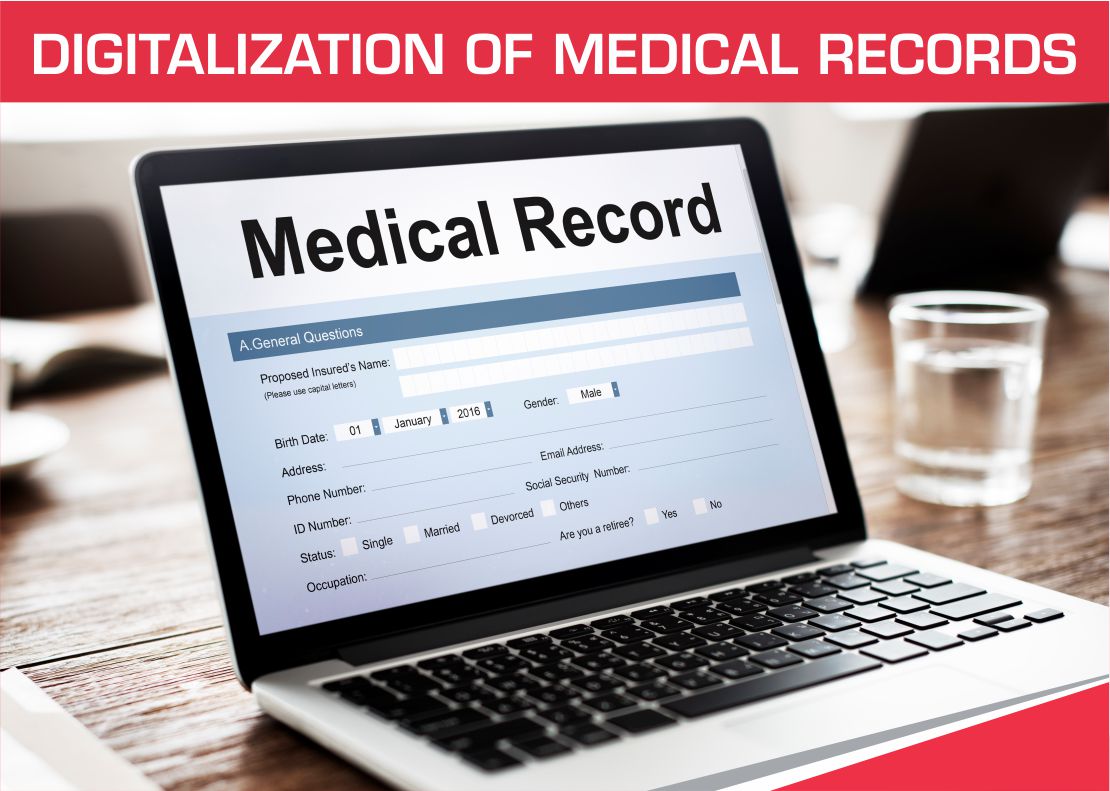 Another sector where this digitalization became a boon was healthcare. When there was a nationwide lockdown and COVID cases were on an accelerating curve, the digital versions of medical history and reports proved to be the best solution in the crisis. In fact,  we were only able to help others remotely. There were so many cases coming up, where parents and kids were far, and they individually were needing medical care, and that time their close relatives were not there to help with their medical history and reports.
This pandemic gave much needed focus for Digitalization of Health ecosystem. Identifying the same, the government of India launched 'Ayushman Bharat Digital Mission (ABDM)' on 27वां October 2021 aims to develop the necessary infrastructure to support the integrated digital healthcare ecosystem of the country. 
Let's understand the implementation of ABDM and how it is going to impact us in the capacity of patients, patient's relatives, healthcare service providers, health insurance companies and resources working in the industry:
Electronic Health Record/Electronic Medical Record
A digital medical records simply means 'electronic health records or electronic medical records'.  As per ISO/DTR 20514, the electronic medical record is defined as repository of information regarding the health of a subject of care in computer-processed form that is able to be stored and transmitted securely, and is accessible by multiple authorized user.
Even though Electronic Medical Records (EMR) and Electronic Health Records (EHR) are used interchangeably, but there is one basic difference between the two. EMR is a specific recording of clinical episode or a medical encounter which is case or purpose specific, whereas the EHR is an aggregation of EMRs and stays lifelong.
Benefits of Digitalization of Medical Records: 
The main objective of maintaining EMR/HER is to support the continuity, efficiency and quality of the integrated healthcare.

Paperless medical history that can be accessed anywhere anytime

Cost-effectiveness as it removes the duplication of screening and tests (if needed for specified time period)

Enabling the stakeholders to deliver right treatment and care at right time

Promoting practice of evidence based medicine

Accelerating research and building effective medical practices

Ease in maintaining health information of patients

Proper backup policies increase the lifespan of health records of individual 

Safe access, audit and authorization control mechanisms

Faster search and updates 
Understanding the Key Stakeholders 
The digitalization of medical records is majorly connected with the patients (citizens), health care providers, payers- i.e. insurance companies including TPA, Education, research institution and investigators, government departments and institutions (including law enforcement and courts of law, public health agencies and NGOs) etc. 
In addition to these, the other vertical of key holders involved are the pharmaceutical industry, medical device makers, telemedicine institutions, and healthcare resources who directly or indirectly get the benefits of digitalization of medical records.
Impact of EMR on End Users
Today, the end users are digitally literate. The irony is that people take backup for photos, phone contacts, files, videos and music collection, but they are not storing their own medical records. Above 95% of medical records are stored physically which often get misplaced during the time of need. 
We must use this digital literacy in right direction that is for maintaining our medical records. With the personal health records and Ayushman Bharat Health Account (ABHA) mobile app, the end users can store and retrieve all their medical records at a single point whenever required. However, there are some specific benefits of this for end users:
Continuity of quality-oriented medical care

With availability of medical history, many errors are avoided

Comparison of Scans and medical images becomes easy for better decision on disease progress

May aide in prompt notification regarding follow ups, and health check-ups

Artificial intelligence helps understanding the high risk patient profile and suggests preventive measures to adopt

Tracking of the healthcare costs that may help to decide the revisions of sum insured in medical Insurance policies

With activated Unified Health Interface (UHI) , the end user can get knowledge on the treatment cost to compare and accordingly select Health care provider and facility in transparent view.
Impact of EMR/EHR on Healthcare Providers:
As per the Indian Medical Council (Professional Conduct, Etiquette and Ethics) Regulation 2022, indoor records and outdoor need to be retained for the period of 3 years from the commencement of treatment, whereas in case of Medico-legal cases, the records need to be retained till the final disposal of the cases.
 As per accreditation body norms like the National Accreditation Board for Hospitals/ Labs (NABH and NABL), indoor case sheets need to be retained for the period of 7 years from the date of discharge and outdoor case sheets and all other records need to be retained for the period of 5 years, whereas medico legal case records and sheets need to be retained for lifelong. If these records need to be stored physically, the space requirement and retrieval become one of the major challenges along with linking to new admissions and medical history during the continuity of the care. By linking to ABDM -Healthcare facility registry and healthcare professional registry, healthcare providers and healthcare facilities can get the following benefits
Medical records are documentary evidence as per the Indian Evidence Act 1872, it can support healthcare professionals and healthcare facilities in insurance cases, claims under Consumer Protection Act, malpractice suits against hospital and medical negligence cases.

Hospitals and healthcare professional can access their patients' record anywhere and can plan the treatment efficiently and effectively 

Hospital may display the provided services and can become a part of UHI, where end users can directly opt and interact with the hospital

These medical records on a single platform can help hospitals to analyse the facility on a daily census like the number of patients discharged, admitted, average length of stay, bed occupancy and bed turnover, operation census, morbidity rate, department wise performance and reports, which in a away can help hospital in data-based decision making in hospital operations/management.

Optimization of the healthcare service cost, by enabling data-oriented pricing techniques.

Cost effective storage and maintenance of healthcare data retention
Impact of Digitalization of Medical Records on Healthcare Professional:
Healthcare professional is an important key to the digital health ecosystem. To achieve the objectives of National Digital Health Mission, it is very important that healthcare professional understands the benefits and accept the transition from recording medical notes on chart paper to the digital form. The Healthcare Information System (HIS) software has been enabled this to up to an extent, where major of the hospitals are using one or the other form of HIS to put the clinical and medical notes in digital format. Some of the major challenges regarding these information is accessibility, uniformity, and data security. 
As per the Digital Information Security in Healthcare Act (DISHA) and as per Health Information Providers (HIP)/Health Information User (HIU) guidelines healthcare professionals are required to store and share the patient data for the following purposes:
To advance the delivery of patient centred medical care

To provide information to guide medical decisions

To improve coordination of care and information among hospitals, laboratories etc.
To comply with the above, healthcare professionals or healthcare facilities need to use the HIS software which is Ayushman Bharat Digital Mission (ABDM) compliant. Also, they will be required to modify and integrate their systems with ABDM building blocks. Besides this, the primary requirement been all systems where data is maintained and is available for sharing and seamless exchange across application, as and when required.
To meet these standards, healthcare professionals need to hire the support staff who is aware of healthcare informatics, can store data correctly in the HIS or Lab Management Software and aware of medical terminology and medical abbreviations very well to classify the clinical records as per the International classification of disease (ICD-10) i.e., Medical Coding. Professionals who can solve and integrate the data into ABDM building blocks, and further use the data for hospital and public health planning analysis. 
Here at Tech Mahindra Foundation SMART Healthcare Academy is offering 2 years diploma course in Medical Record Technology, which covers subjects like Medical Terminology, Medical Coding, Medical Billing, Healthcare Statistics, Hospital Informatics, Medico Legal Case Support, IT enabling of the healthcare records and much more. This course enables the students to become a support staff or paramedic staff, who can be hired in healthcare facilities or clinics to meet the objectives of National digital health mission.