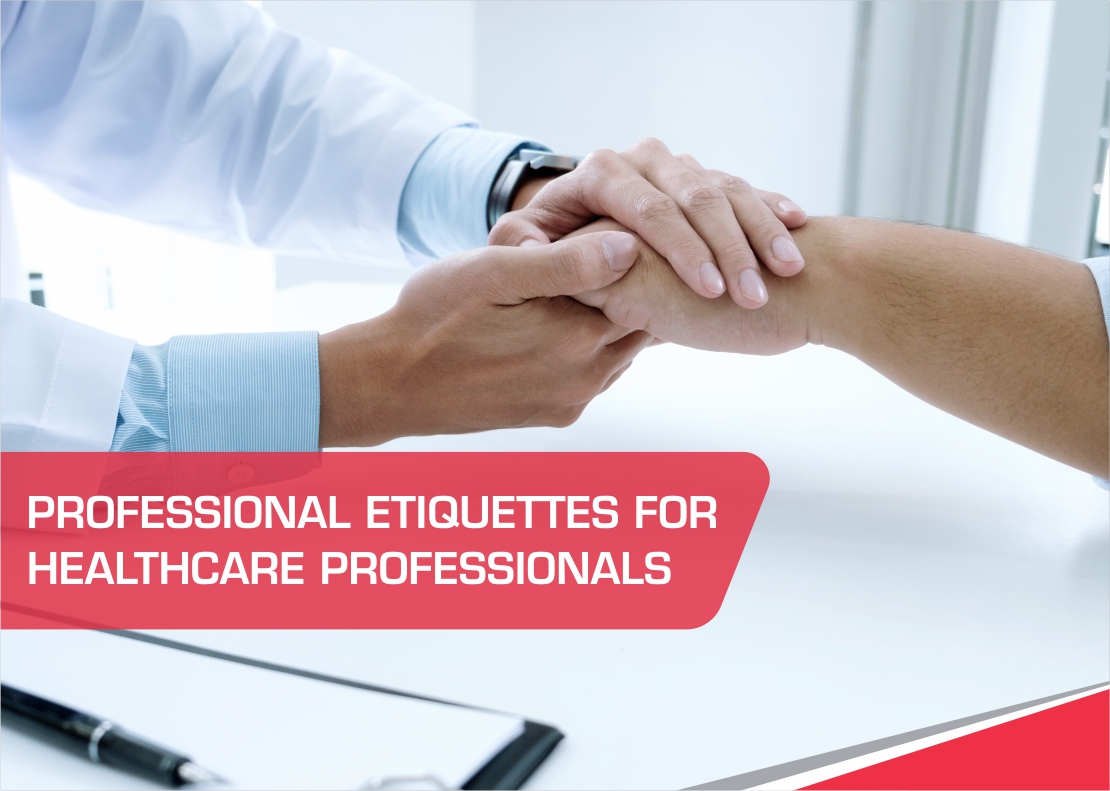 Healthcare professionals are involved in interactions with a wide variety of people. Therefore, professional etiquette is a crucial factor contributing to a successful healthcare career. For a healthcare professional, etiquettes are not just good manners; it is about establishing respectable relationships with patients, colleagues and supervisors. These skills are critical for presenting oneself as a polished, confident, accountable, professional worker and help stand out as well as improve career progression.
ABCs OF ETIQUETTES: Appearance, Behaviour, Communication 
Based on the feedback analysis of most of the healthcare services, the major findings were that most complaints were regarding the attitudes and behaviour of the staff. Career advancements depends upon professional etiquettes, but most of the times healthcare workers are ignorant about it. One must understand that etiquettes are necessary to build confidence in the patients and nurture positive outlook in co-workers.
Introduce yourself
Taking the initiative to introduce and share a little about yourself is a great way to make patient confident about their healthcare provider. Greet patient with a smile and eye contact with an assertive tone of voice. This may make the patients and others speak about their needs to you with confidence.
Dress code
As far as dress code, your clothing should be clean, ironed with good fit that radiates a sense of self-esteem to make lasting impressions and draw positive attention. For a good personality, one must maintain good personal hygiene and use a mild deodorant with clean shoes. Also, wear name badges at all times above the shirt pockets for easy visibility. Please avoid tight fitting clothes, capri, low cut blouses or dresses, T-shirts and shirts with offensive or violent messages. 
Besides these physical appearance aspects, the etiquettes of a good healthcare professional should follow some ethical principles such as: 
Justice
Healthcare professionals must be fair when they distribute care. You must provide fair treatment and equal healthcare services to all individuals irrespective of their sex, gender, color, caste, creed, religion.
Beneficence
It means kindness or generosity. Being a healthcare professional you must strive for doing good and the right thing for your patients.
Accountability
Accepting responsibility for one's own actions. You must be responsible for all the professional and personal consequences that can occur as the result of your actions.
Fidelity
It means being faithful and keeping one's promises. The healthcare professional must be faithful and trustworthy to their professional promises and responsibilities by providing high quality care safe in a competent manner.
Autonomy and patient self-determination
As a healthcare professional, you should accept the client as a unique person who has the innate right to have their own opinions, perspectives, values and beliefs. The patient has the right to advice the healthcare provider regarding the compliance with the prescribed treatment or any rehabilitation procedure. The patient has the right to accept or reject any prescribed treatment.
Veracity
It means being completely truthful with patients. So, you must not withhold the whole truth from clients even when it may lead to patient distress.
Along with these, the most common ethical issues and concerns in healthcare include the foregoing life sustaining treatment, do not resuscitate orders by patient's relatives, protecting patient's privacy and inadequate resources and staffing resources and end of life issues. In such situations healthcare providers can take professional help to resolve such issues. 
Ethics is the system of moral principles, to understand what is right, wrong, good, and bad. It is the branch of philosophy that deals with organized study of moral ideals and goals, motives of choice, and standards of behaviour. These principles govern how people make decisions and lead their lives. Ethics are the standards of what is good for individuals and community or social setting, and is also described as moral philosophy.
Professional etiquettes and ethics are necessary for healthcare professionals as they are needed for developing a good human relationship. These etiquettes are characterized by how the healthcare professional relates to patients in different situations.
We at Tech Mahindra SMART Academy of Healthcare strive to incorporate these values in all the students, so that they build the values of credibility, being fair and honest, develop leadership abilities, improve decision-making skills and create a positive impact on society. We at Tech Mahindra Smart Academy of Healthcare do that by incorporating soft skills as a mandatory subject along with technical education, for all the healthcare-related courses, to enable our students to be professionally competent in handling all kinds of patients with dignity and respect.