Breast Cancer is one of the most commonly diagnosed cancers among females worldwide. It is also a leading cause of mortality among women. However, advances in the diagnosis and treatment of breast cancer have resulted in decreased mortality rates. Although this cancer evolves silently, it can be discovered through routine screening. Chances of survival increase with early diagnosis and treatment, making it crucial to have an understanding of your breasts.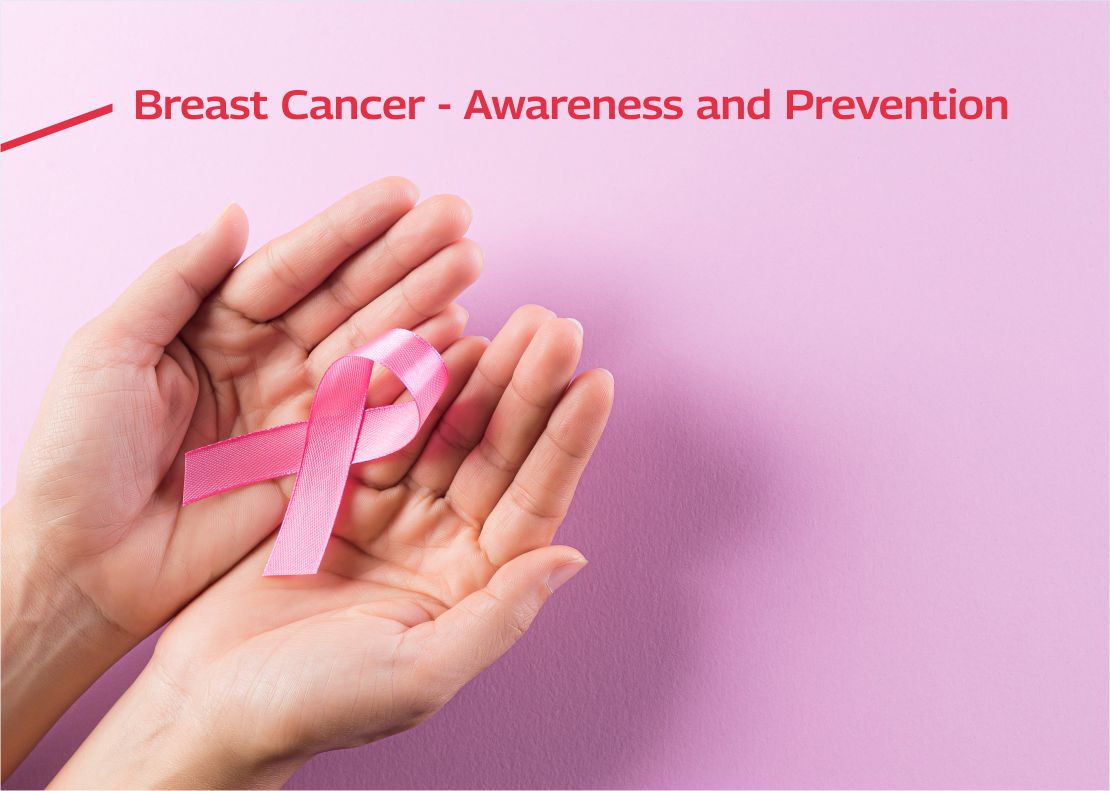 Considering this, Tech Mahindra Foundation SMART Healthcare Academies organised a webinar to educate aspiring healthcare professionals and women about breast cancer and ways to prevent it. As a speaker for this webinar, I focused on four key areas: risks and prevention, symptoms, diagnosis and treatment of breast cancer. Read this blog to find out more about breast cancer. 
Breast Cancer
Breast cancer forms(/develops) in the breast cells. It can begin(/originate) in different parts of the breast but can spread outside the breast through blood vessels and lymph vessels. However, most breast cancers start in the lobules or ducts. It occurs mainly in women, and although it is rare, men too can develop breast cancer. The treatment for breast cancer is highly effective when the disease is identified early. 
Risk Factors of Breast Cancer
The key risk factors and causes of breast cancer include:
Increased age

Early menarche

Late menopause

Nulliparous women

Women who have not breastfed babies

Hormonal treatment (HRT)

Family history (BRCA)

Obesity

Alcohol

Smoking

Inherited genetic mutations
Symptoms of Breast Cancer 
Breast cancer may not show any symptoms in its early stages. However, each type of breast cancer may have various symptoms. Many of the symptoms are similar and include the following:
Painless breast lump

Breast thickening

Changes in nipple

Lump or swelling in the armpit

Blood-stained nipple discharge

Change in the overlying breast skin

Sudden change in the shape or size of the breast

Inverted nipple

Nipple discharge other than breast milk

Breast pain
If you have any of the symptoms mentioned above, it does not directly imply you have breast cancer. Moreover, not all lumps are cancer; a benign cyst can cause breast pain or a breast lump. However, you should regularly self-examine your breast, and if you find a lump or have other symptoms, you should contact your doctor for further examination. 
Diagnosis of Breast Cancer 
The sooner breast cancer gets diagnosed, the better your chances of successful treatment. Tests to diagnose breast cancer include the following:
Self-Examination It is advised to self-examine your breasts every month. Regular self-examination will help you become familiar with the breast contours and the feel of your breasts and to notice any change in your breasts. You should check your right breast with your left hand and vice-versa for any lumps or other changes.
Clinical Examination You should get a clinical breast examination by doctor every year. During the examination, a doctor will examine your breasts for lumps or other changes and will also check your underarm and collarbone areas. If they notice any suspicious lumps, they may advise additional tests.
Mammography It is a low-dose X-ray that can detect changes that are too small to be felt during a physical examination. Mammography produces images that show lumps or abnormalities. The doctor will test further if there are any signs of a potential problem.
Ultrasound It's a painless scan that uses sound waves that help a doctor differentiate between a solid mass and a fluid-filled cyst.
Biopsy A tissue sample is extracted and sent to a laboratory for analysis in this test. The biopsy results show whether the cells are cancerous and, if so, the type of cancer, the cancer grade and whether the cancerous cells have hormone receptors or other receptors.
FNAC Fine-needle aspiration cytology (FNAC) is a highly accurate method to diagnose breast lesions. It involves using a thin and hollow needle to take samples of cells from tissue or fluid in a lump or breast. The extracted sample is, then, examined under the microscope. FNAC provides rapid diagnosis to rule out cancerous lesions.
Modalities of Breast Cancer Treatment
Surgery A surgery to treat breast cancer involves removing the cancerous portion of the breast and some normal tissue surrounding the tumour. The type of surgery depends on breast cancer, but the two main types of surgery to remove breast cancer are breast-conserving surgery and mastectomy. Other surgeries include axillary lymph node dissection, sentinel node biopsy, and lumpectomy.
Chemotherapy Chemotherapy uses drugs to damage fast-growing cells, such as cancer cells. A doctor may recommend chemotherapy before surgery to shrink the breast tumour and sometimes after surgery also to kill any remaining cancer cells and minimise the chances of recurrence. Chemotherapy may be recommended as a primary treatment if cancer has spread beyond your breast, or to other body parts.
Radiotherapy Radiotherapy (radiation therapy) is given after a lumpectomy or mastectomy, to kill the remaining cancer cells. In radiation therapy, high-powered beams of energy are used to kill cancer cells. It reduces the risk of cancer recurrence.
Hormonal treatment A few types of breast cancers are sensitive to hormones. Estrogen and progesterone are two female hormones that can stimulate the growth of breast cancer tumours. Hormone therapy blocks the production of these hormones in your body or blocks the hormone receptors on the cancer cells. This therapy slows and possibly stops the growth of your cancer.
Ways To Prevent Breast Cancer
A healthy lifestyle, regular screening, and taking any preventive measures your doctor suggests can help lower the risk of developing breast cancer. Here are some of the ways to reduce the risk of breast cancer:
Monthly self-examination

Yearly clinical examination

Eat a healthy and balanced diet

Exercise regularly

Breastfeeding

Maintain a healthy weight

Do not drink alcohol

Quit smoking

Have a low intake of saturated fat
When to See a Doctor
In addition to routine checkups, you should consult a doctor if you see any changes in your breast or on the skin of your breast or if find a lump in your breast. 
Key Facts
It occurs when cells in the breast grow abnormally.

Symptoms include changes in the breast or breast skin, discharge from the nipple, changes in the nipple or lump in the breast. 

Treatment depends on the cancer stage and includes radiotherapy, surgery, chemotherapy, or hormonal treatment.

Routine screening helps detect breast cancer early.

Early detection and treatment increase the survival rate.