About Tech Mahindra Foundation
Tech Mahindra Foundation is the corporate social responsibility arm of Tech Mahindra Ltd. Established in 2006, under Section 25 of the Companies Act (now Section 8), it is today active in 11 cities across India .The Foundation works in three key verticals – education, skill development and disability
SMART (Skills for Market Training) is Tech Mahindra Foundation's flagship employability programme, with 86 centres providing skill development in 11 cities. In addition, the Foundation runs eight Tech Mahindra SMART Academies: four SMART Academies for Healthcare, three SMART Academies for Digital Technologies, and one SMART Academy for Logistics and Supply Chain Management as its flagship programme in employability. Over the years, SMART has successfully trained over one lakh young men and women, with a placement rate of over 75%. Its robust processes, stringent monitoring system and industry-led approach have created a model for scaling up skill development while maintaining high training standards. 
Tech Mahindra Foundation is committed to teacher empowerment, enrichment in learning opportunities for children, effective school governance and enhancing parental involvement in school education. In the domain of education, Shikshaantar is the Foundation's training programme for teachers. The Foundation runs two premier in-service teacher capacity building institutes called In-Service Teacher Education Institutes (ITEIs) in North Delhi and East Delhi Municipal Corporations.
The Foundation also works in 15 schools through its ARISE (All Round Improvement in School Education) programme with the objective of holistic development of children in these schools.
Disability is the third major area of intervention for Tech Mahindra Foundation. The Foundation works towards ensuring that Persons with Disabilities have the opportunity for a better future and dignified lives. This is done through two programmes: ARISE+ (All Round Improvement in Special Education) and SMART+ (Skills-for Market Training for Persons with Disabilities). The Foundation mandates that 10% of all its beneficiaries are Persons with Disabilities.
Tech Mahindra Foundation Board Members
Chairman Emeritus of the Mahindra Group, Keshub Mahindra headed the Mahindra Group for over 5 decades. He is the Chairman of Tech Mahindra Foundation.
Mr. Keshub Mahindra
Chairman
Chairman of the Mahindra Group, Anand Mahindra is also the Chairman of Tech Mahindra Ltd. and a member of the board of Tech Mahindra Foundation. He is also known for his interest in philanthropy.
Mr. Anand G. Mahindra
Director
Vineet Nayyar is Chairman of the CSR committee, an accomplished leader, has led several organizations across industries, creating high-performance teams and successful businesses. Vineet has worked with the Government of India, international multilateral agencies and in the corporate sector.
Mr. Vineet Nayyar
Director
Ulhas N. Yargop is the Director of the Company. Since 1999, Ulhas has been the President for Telecom & Software Sector and a member of the Group Management Board. He is a BTech from IIT, Chennai & an MBA from the Harvard Business School.
Mr. Ulhas Yargop
Director
CP Gurnani is the MD and CEO of Tech Mahindra Limited and has a passion for social transformation. Apart from being a board member for the Foundation, CP set up the Saakar Scholarship Fund to support the education of third-party employees of Tech Mahindra Limited.
Mr. C. P. Gurnani
Director
M. Rajyalakshmi Rao is a CSR Committee member of the Foundation. She is an ex-member of the National Consumer Disputes Redressal Commission and has authored two books on raising awareness on consumer rights. She is Founder Chairperson of All India Foundation of Deaf Women, India
Mrs. M Rajyalakshmi Rao
Director
Message from our Former CEO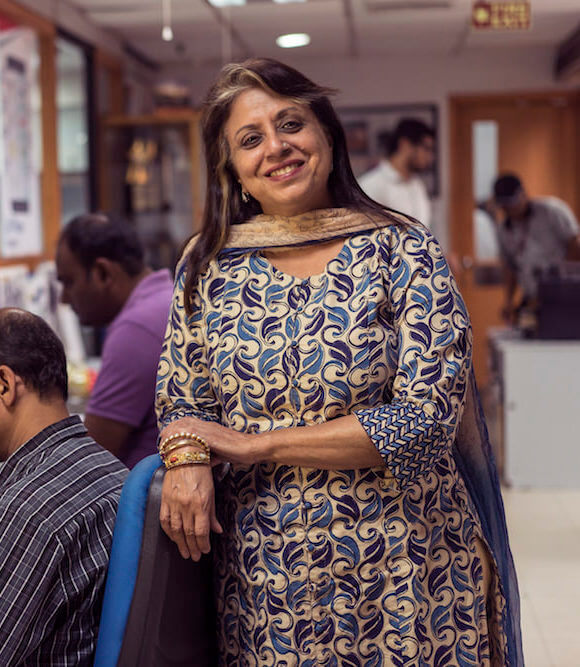 Professional Skilling is the spark that ignites progress in any country. Much has been said about India's demographic dividend but if this demographic dividend is to become an asset we need to equip our youth with professional skills across all sectors and we need to do it today.
Tech Mahindra Foundation has developed expertise in Education and Skilling over the past decade. Our flagship SMART programme trains 20,000 young people every year with market-relevant job skills, as well as soft skills,we launched the very first Tech Mahindra SMART Academy for Healthcare at Gandhi Ashram in Kingsway Camp, New Delhi, in collaboration with the Harijan Sevak Sangh, and the second Tech Mahindra SMART Academy for Healthcare in Mohali, Chandigarh.
Tech Mahindra SMART Academy for Healthcare is a world class, state-of-the-art institution that trains young men and women to get Diplomas in courses such as Dialysis Technician, X-ray and Imaging Technology, Operation Theatre Technician, Medical Records Technology, Medical Lab Technology, etc.
To our students in our Academies across India, I would like to say that if you study hard, you can be assured that your work in the future will be more than just a job. You will be carrying out a service to society. People will trust you with the lives of their loved ones – their mothers and fathers, siblings and children. You might be the first person at the scene of an accident, or assisting a surgeon or helping someone through an early diagnosis of a life-threatening disease like cancer. From our side, we promise to assist you through your training not just with the best of infrastructure, laboratories and study material, but also giving you the soft skills and emotional skills to handle these situations. And I am sure, that should any of us ever need medical help we will be not just proud to call upon you, but confident in the care that you will be able to provide.
Wishing you all the very best!
Dr. Loveleen Kacker
Former CEO, Tech Mahindra Foundation