Tech Mahindra SMART Academy for Digital Technologies, Hyderabad
Join us to kick start your career in Graphic Designing, Web Development and UI. Admissions open!
A Tech Mahindra Foundation Initiative
Explore the Digital Technology Courses at Hyderabad Academy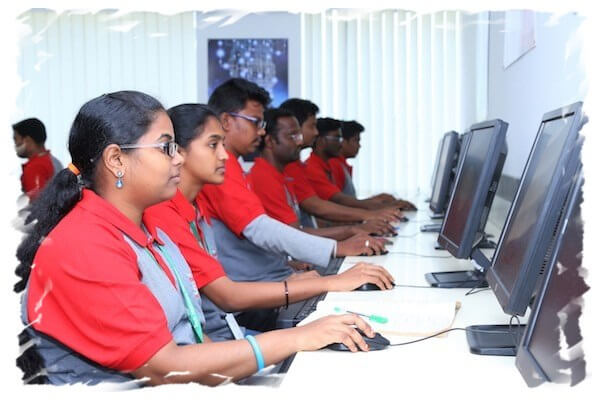 The success of Tech Mahindra Foundation's initiative to launch the SMART Academy for Digital Technologies in Vishakhapatnam has carved the pathway for establishing its second Digital Technologies Academy in Hyderabad. Centrally located at the Tech Mahindra Campus at Ohri Towers in Hyderabad, the Tech Mahindra SMART Academy for Digital Technologies is attractive both location wise and for the skills training it has to offer.
As the way people consume content is rapidly changing towards digital, the Academy will help bridge the existing skill gap in the sector through its Foundation SkillsCourse (English, Basic IT & Soft Skills)and Technical Skills Courses pertaining to this sector. Nestled within the Tech Mahindra Secunderabad campus, the Academy is planned to spread across 5000 square feet of area, furnished with 3 classrooms,3 labs well-equipped with the latest software and computer systems.
The mentors at SMART Academy are highly trained industry experts themselves which ensures quality training for the students to be job-ready as they take steps closer to entering the job market. The curriculum is also designed to include internship opportunities for practical on-the-job training at established Digital Technology industries. This will help students hone the skills they have learned in the Academy and also understand the job requirements of the Digital Technologies sector. At the end of the course, the students will be guided by a committed placement team of the Academy to support placements.
Scheduled to be open for admissions later this year, Tech Mahindra SMART Academy for Digital Technologies in Hyderabad will enable youth to become job-ready for the new age careers in digital technologies. You may download the brochure here.
Admissions open - Know more