Tech Mahindra SMART Academy for Healthcare, Mumbai
A paramedical & allied healthcare training institute for Women only
In association with Auxilium Convent School
Admissions open - Know more
*By submitting this form, I hereby provide explicit consent to Tech Mahindra SMART Academy to contact me and utilize my personal information for educational purposes
Explore the Healthcare Training Courses at the Mumbai Academy
Explore the Healthcare Training Courses at the Mumbai Academy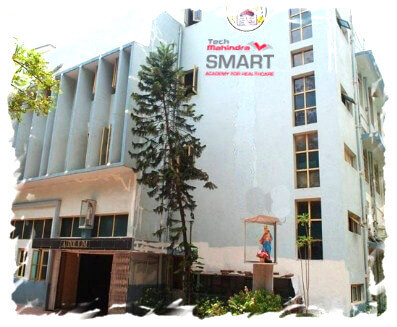 The Tech Mahindra SMART Academy for Healthcare in Mumbai was conceptualized following the success of the first two healthcare academies. Inspired with Tech Mahindra Foundation CSR mandate of benefiting over 50% women beneficiaries, the Mumbai academy comes with a unique feature that the academy is an only for women institute and is also managed by a women team.
The academy is an initiative in association with the Auxilum Convent School. It offers a range of paramedical and allied healthcare courses for girls over 18 years of age.
Aimed at imparting professional paramedical training and employability skills, the Mumbai academy is equipped with hospital simulated labs, industry-relevant study material, and experienced faculty to help young women make a career in the noble healthcare sector.
In association with Auxilium Convent School

Auxilium Convent High School is conducted by the Daughters of Mary Help of Christians commonly known as the Salesian sisters of Don Bosco. This world Wide Institution spread in all five continents, was founded in 1872 in Italy by St. John Bosco and St. Mary Mazzarello. It is run according to the principles of our saintly founders.
Training & Placement Partners