Tech Mahindra SMART Academy for Healthcare, Mohali
A state-of-the-art paramedical and allied healthcare training institute in Mohali, Chandigarh
Offering Diploma & Certificate courses
Admissions open - Know more
*By submitting this form, I hereby provide explicit consent to Tech Mahindra SMART Academy to contact me and utilize my personal information for educational purposes
Explore the paramedical & allied healthcare courses at the Mohali Academy
Facilities & Infrastructure
The classrooms, equipment, library, laboratories and the students play area at the Tech Mahindra SMART Academies for Healthcare are acknowledged to be well accepted in the healthcare skilling sector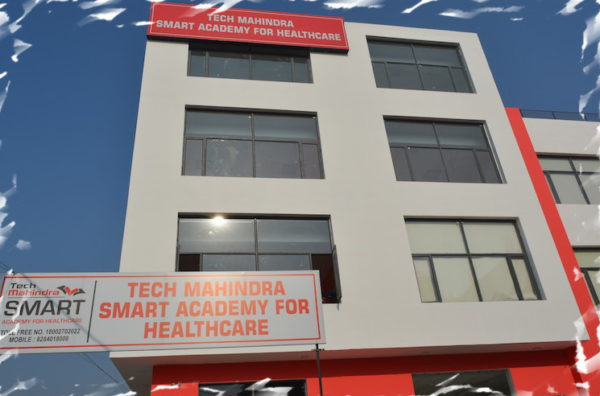 The Tech Mahindra SMART Academy for Healthcare in Mohali was launched following the success of the first Academy in New Delhi. Modelled along the lines of the Academy in New Delhi, SMART Academy in Mohali aims at setting a standard of excellence in the training of paramedical professionals.
The Academy operates from a spacious three storey building, with modern classrooms, fully equipped laboratories, computer facilities and a rooftop terrace cafeteria. The laboratories resemble hospital wards to ensure that students learn in work-like settings. The Academy has a Basic Skills lab, equipped with medical mannequins on which students can practice CPR, tube feeding, inserting IV drips, giving injections and more. Additionally, it has an autoclave and sterilisation station. The operation theatre lab is outfitted with actual hospital equipment. Similarly, the dialysis lab has both B Braun and Fresinius machines, and a dialyser.
A dedicated placement team ensures that graduating students are linked with leading hospitals and healthcare facilities in Chandigarh.
The training courses at the TMF SMART Academy for Healthcare Mohali are certificate programs offering a fine combination of theory classes, supplemented with guest lectures, seminars and on-the-job training. The theory classes are delivered by well qualified and experienced faculty members. The rich diversity of our faculty's background instills in the students, a structured understanding of issues and a desire for continuous learning through high quality staff, set up and training.
A professional paramedical training can give you knowledge, life-long skills and a launch pad to start your career in a leading hospital or healthcare facility.
To know more about this paramedical institute, download the academy brochure today.
See what Industry Experts have to say
Know more from our students
I had a wonderful experience at Tech Mahindra SMART Academy for Healthcare, Mohali. The faculty members encouraged and helped me to focus on my goal to become a Cardiac Technician. I thank the entire team for grooming me and shaping my career.
Vilas
ID: SA00526
Cardiac Technology Course
I am grateful to Tech Mahindra SMART Academy, Mohali for improving my skills and knowledge that helped me to get a job at SRL Ltd as Junior Lab Technician. I would specially thank the trainers for their dedication and support that helped me to clear my IMA final exam with distinction.
Nitin
ID: SA00617
PRESENT EMPLOYER: SRL Limited
Medical Laboratory Technology Course
Training & Placement Partners