Paramedical Courses after Class 10th: Eligibility, Placements and Job
The strength of the healthcare sector depends on the diverse roles and plethora of professionals that work towards a common goal of providing better care. Trained and skilled professionals shoulder multiple responsibilities in the entire setup and aid doctors in saving lives and working towards life expectancy.
If one dreams of getting a career in healthcare and saving lives, then a paramedical profession is perfect to opt for. Tech Mahindra SMART Academy for Healthcare offers various courses that a student can join after completing their Class 10th. It is also ideal for those who have to shoulder responsibilities for their family early in life. The best part is that there are some courses that a student can join before 10th and get a well-paying career in the healthcare domain.
These job oriented courses not only train students to be critical elements of healthcare industry but also comes with numerous career rewards such as good remuneration, job satisfaction and instant gratification.
Paramedical Courses after 10th offered by SMART Academy
Here are the paramedical courses after 10th that can help in beginning an early career in paramedics:
1. Certificate in General Duty Assistant:
The role of a
General Duty Assistant
(GDA) is critical to the functioning of any healthcare establishment. Also referred to as nursing or medical assistants, these professionals are responsible for caring for and helping the admitted patients. The GDA is also trained to work in home-based setups. This course is perfect for candidates who look forward a career in paramedics and have empathy and commitment to serve the sick. An individual opting for General Duty Assistant will be trained in the following aspects:
Basics of Human Anatomy
Human Physiology
Basic Health & Hygiene
Basic Hospital Operations
Special Skin care for Radiotherapy
Skin Care for Pressure Sores
Blind Care
Everyday Chores of Patients
Drug Administration
General Nursing Skills
Biomedical Waste Management
Handling, Lifting and Transferring sick patients
Fall Prevention Care
Emergency First Aid and CPR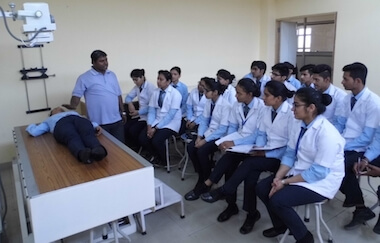 2. Home Health Aide:
The main responsibilities of a
Home Health Aide
(HHA) are providing nursing and personal care for elderly people, patients and persons with disabilities. The tasks performed by Home Health Aide are important for any healthcare organisation. This programme trains to provide individualised health care to patients and the elderly at their home. The HHA is trained to help nurses and other healthcare professionals along with taking care of patients' safety and comfort. The curriculum of Home Health Aide will cover the following topics:
Basic Human Anatomy & Physiology
General Health &  Hygiene
Understanding Patient's needs
Special Skin Care for Pressure Sores
Caring for the Visually Impaired
Role of a Patient Care Assistant
Daily Care of a Patient
Bathing a Patient
Feeding a Patient
Administering Drugs as per Prescriptions
Basic Nursing Skills
Disposal of Medical Waste
Understanding Body Mechanics
Patient Handling, Lifting, and Moving Patients
Fall Prevention Care and Restraints
Emergency First Aid
Communication with Patients and their Careers
Paramedical Admission: Eligibility for GDA and HHA
Before the interested students apply for the General Duty Assistant and Home Health Aide offered by SMART Academy, they are advised to go through the eligibility criteria of the paramedical courses offered in Tech Mahindra SMART Academy. The GDA and HHA eligibility criteria are as follows:
| | | |
| --- | --- | --- |
| Eligibility Criteria | General Duty Assistant | Home Health Aide |
| Education Qualification | Class 8 | Class 8 |
| Minimum Age | 18 years | 20 years |
Paramedical Courses: Placements for GDA and HHA Courses
The comprehensive curriculum for both the paramedical courses General Duty Assistant and Home Health Aide inculcates the requisite skills and also offers a great scope for securing jobs with good remuneration. Placements for both these jobs are mostly in –
Hospitals
Nursing Homes
Old Age Homes
Patient Care Camps
Community Centres
Medical Charity Organizations
Individual or Private Homes
Paramedical Courses: Job Description for GDA and HHA Courses
The growth hierarchy also has numerous opportunities such as those of supervisors and managers. As the field of medicine continues to grow, demand for trained personnel as medical assistant increases. The growing life expectancy also adds to the number of job opportunities as General Duty Assistants and Home Health Aide in medical institutes.
The job description of GDA and HHA are as follows –
| | |
| --- | --- |
| General Duty Assistant | Home Health Aide |
| Providing basic patient care | Providing personal care for patients (e.g. bathing, dressing, and grooming) in hospitals as well as in home settings |
| Dressing and feeding patients | Monitoring the patient health status and reporting to the doctor regarding the same |
| Assisting patients with their daily exercise and getting in and out of bed | Assisting patients in their daily tasks and exercises (as prescribed) |
| Hygiene of the patient | Supervise the prescribed medication on time |
| Extra care as required including housekeeping | Keep the environment safe for the patient |
This role is associated with loads of responsibility. It requires immense attention and discipline to monitor the patients. One may also be required to work in rotational shifts and be functional over the weekends. Therefore, only the students who are dedicated to becoming a paramedical and serving the community are advised to go for the course.