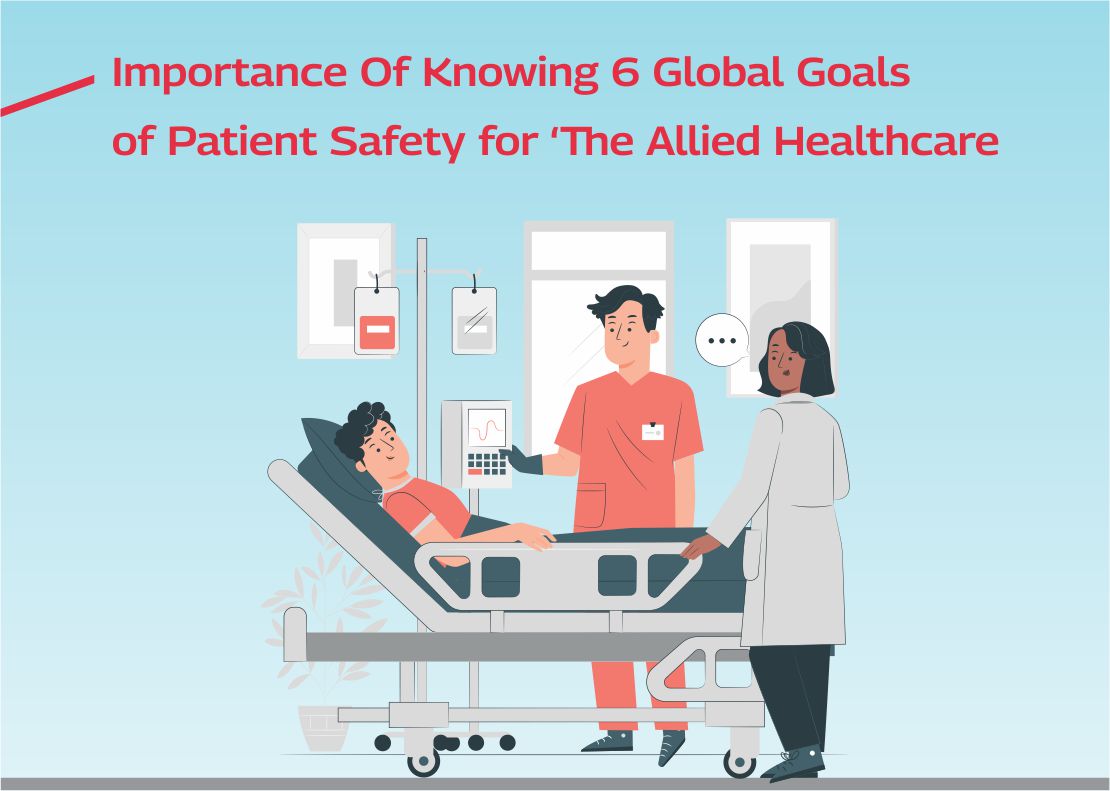 Patient safety is a top priority for modern healthcare providers. As ensuring a safe environment for patients and staff alike is essential for the delivery of quality care. The concept of patient safety first emerged in the late 1990s. It sought to address the growing concern about the mistakes and errors that can occur in healthcare processes, particularly in a clinical setting. At its core, patient safety is an area of healthcare that revolves around averting mistakes and accidental injuries to patients. 
Let us dive deep into the Six International Patient Safety Goals (IPSG) laid down by the International Commission for Patient Safety. These goals address specific areas of concern in some of the most challenging aspects of patient safety.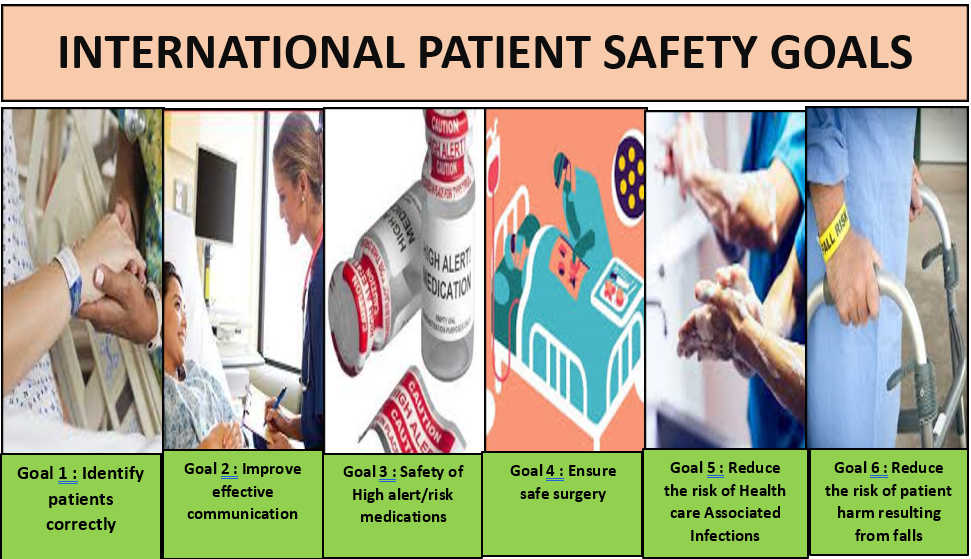 Goal 1:
Identify patients correctly: Before conducting any procedure, it is mandatory to check and confirm the patient's full name and hospital registration number on the identification band and patient file to avoid any confusion and establish therapeutic communication.
Goal 2:
Improve effective communication: Use of standard healthcare communication tools during clinical handover at the side or reporting clinical information to doctors can avoid unnecessary errors. Communication tools such as ISBART can be used.
I: Introduction: Self-Introduction and patient identification for e.g., "Good Morning Sir, Myself Mr. Anand Sharma, your Nursing Assistant for today, May I check your I.D. please?"
S: Situation: Understanding the situation of patient for e.g. "Can you tell me what exactly is happening to you?" 
B: Background: Going through the Patient history, complaints, diagnosis, and prognosis etc.
A: Acknowledge/Assessment: If the patient is having pain, then carry assessments as per standard pain rating scale and report to concerned physician.
R: Recommendations: After informing, carrying out the physician order immediately overcoming communication barriers. 
T: Thankyou: Once appropriate intervention is taken, and patient issue is resolved then HCW should have courtesy to say 'Thank you' before leaving bedside. 
Goal 3:
Safety of High-Alert/Risk Medications: Colour coding of High alert medications along with look-alike and sound alike medications, use of read back repeat back policy during the administration of these drugs, storage, and labelling with checking of expiry date or near expiry date of these drugs in a single lock and key compartments can prevent medication errors.
Goal 4:
Ensure safe surgery: Implementation of a surgical safety checklist can prevent harm to patients. It reduces surgical morbidity, mortality, and sentinel events by confirming the patient's identity, site of surgery, procedure, informed consent, allergies, airway risk, risk of blood loss, sponge counts, instrument counts, etc. 
Basic five steps as advocated by National Patient Safety Agency for safe surgery:
Briefing: Plan a discussion among team members, clarifying the roles and responsibilities of the team etc.
Sign-in: Before induction of anaesthesia ideally in presence of surgeon, review patient identification, informed consents, site of procedure, vital signs, risks, allergies etc.
Time-out: After Induction and before incision, team introduction, anticipated critical events to be reviewed, confirm sterilization concerns etc.
Sign-out: After wound closure and before moving out of the operating room confirm surgical procedure performed, swab counts, instrument counts and plan of recovery etc.
Debriefing: Discussion of teamwork, errors, learning points, sharing perspectives etc.
Goal 5:
Reduce the risk of healthcare-associated infections: Infections such as Ventilator-Associated Pneumonia, Central Line-Associated Bloodstream Infections, Catheter-Associated Urinary Tract Infections, Bedsores, etc. can be prevented and controlled by effective implementation of established hospital infection control policies e.g., Hand hygiene, etc., and continuous monitoring through Centre of Disease Control and Prevention (CDC) bundle guidelines.
Goal 6:
Reduce the risk of patient harm resulting from falls: Assessment of risk of falls, Use of patient safety devices such as anti-skid floor mats, footwear, safety belt during transportation, side rails for bed or stretcher, and patient shifter can reduce the risk of patient harm resulting from falls.
So, the question is, why do the Allied health professionals know this from the Healthcare academy level? 
With the patient safety-centric view, a healthcare provider is obliged to follow these IPSG standards effectively. But to practise them without any errors one must undergo its basic understanding. And it is only possible if it is structured and delivered during the training. It will help the students understand the core value, needs, and criteria to meet them in a patient care setting with confidence.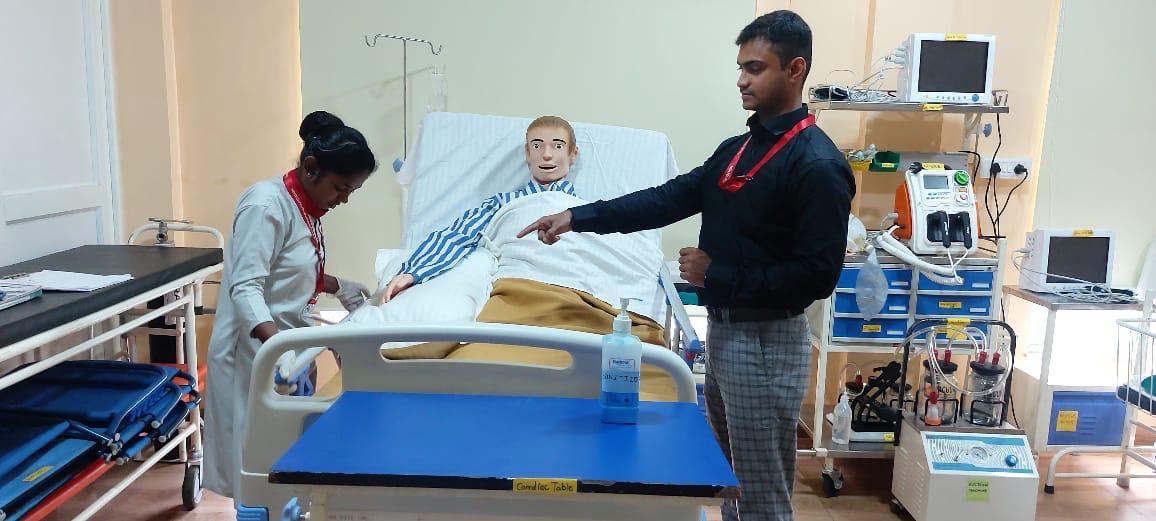 The following points will help us reckon the need for the same.
Understanding the global context:

These goals provide a universal framework for patient safety initiatives, ensuring that efforts to improve safety are aligned across borders and healthcare systems.

Improving patient outcomes:

By following the six goals, healthcare professionals can help reduce the incidence of preventable harm, resulting in improved patient outcomes and quality of care.

Ensuring safety in all settings:

The goals address security across the entire spectrum of care, from hospitals to community settings, emphasizing the importance of patient safety regardless of where care is provided.

Fostering a culture of safety:

The goals promote a culture of safety in healthcare organizations, encouraging open communication, teamwork, and continuous learning and improvement.

Empowering patients and families:

The goals recognise the role of patients and their families in ensuring their safety and empowering them to be active participants in their care.

Driving change and improvement:

The goals provide a roadmap for continuous improvement in patient safety, guiding healthcare professionals to prioritise their efforts and measure their progress.
Efforts are needed to set up a culture of patient safety by creating an open and non-punitive atmosphere with systematic education and training at all the HCOs. 
As the saying goes, "Modern medicine heavily invests in information technology, yet the promised improvements in patient safety and productivity frankly have not been realized."
It is essential that we embrace the principles of patient safety as an integral part of standard training to ensure that healthcare settings do not compromise safety. We must always remember that patient safety is a collective responsibility, and it begins with each of us.
At the Tech-Mahindra Foundation SMART Academy for Healthcare, we have made a deliberate commitment not only to introduce the significance of patient safety during training but also to incorporate it as a fundamental component of the technical training provided to all our students. This approach ensures that they are well-prepared for the demands of their future roles in healthcare.