As they say, "People may forget your name but can't forget the way you make them feel", reaffirms and prioritises the responsibilities of Healthcare Professionals or Healthcare Workers (HCWs). With the advent of globalisation, the healthcare delivery system works on medical ethics and HCWs are the ones who ensure that the same is followed.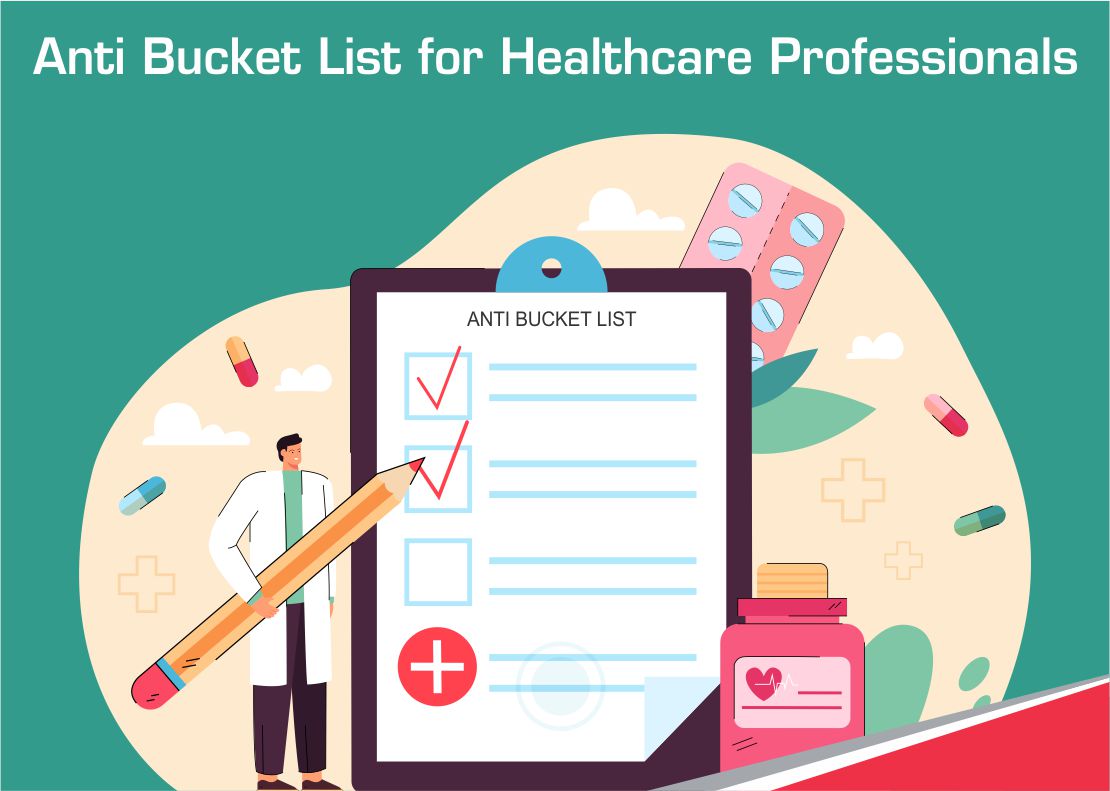 According to Potter Stewart, "Ethics is knowing the difference between what you have as a right to do and what is right to do" and identifying with the same thought, the components of Bucket and Anti Bucket lists of healthcare professionals can be defined. A bucket list specifically brings out a list of things you want or are supposed to do in your lifespan whereas an anti-bucket list is a list of things you don't want or are not supposed to do.
Having worked with HCWs for the past some years, I would like to recommend an Anti-Bucket list for them as something one should be thankful for not doing. If you are aware of all the do's and don'ts of being a Healthcare Professional, you can reach heights in your career. One should always remember that working in the healthcare sector is much more than just doing a job. It is more about making a difference in somebody's life each day and to make that difference you shall have an Anti-Bucket list. This list of Items once made helps you to become more polished. Here are the top 11 amongst them:
1. Don't be a Passive Listener
It is said that 'listening' is an art that requires attention over talent, spirit over ego, and others over self. The biggest blunder any HCW does is listening to half, understanding half, and telling double. You are ought to be an active listener at your workplace as listening is an important attribute in boosting another person's self-esteem.
2. No for Unethical Practices for Self-benefits
Medical malpractice refers to a situation when a healthcare professional or provider neglects the appropriate treatment, omits to take appropriate action, or gives the substandard treatment that may cause physical/mental/financial harm, injury, or death to a patient. One should avoid the same as it can tarnish your career as well as adversely affect the lives of beneficiaries.
3. Never Play with Patient's Privacy
It is very well said that confidentiality is a virtue of the loyal, and loyalty is the virtue of faithfulness. So, a patient's privacy should be the utmost priority for any healthcare professional. It builds trust between the patient and the hospital he or she is associated with. Patients are likely to be comfortable in sharing their health information, and personal history only if they trust you. Trust-based treatment always gives better results.
4. Never Lie
A very famous saying "a lie has no legs" states that once it is said you can't get away from it. So, it is always expected from HCWs to never lie to their patients as it is considered a basic moral principle. Withholding information from a patient without any specific reason can be harmful. Patients shall be well informed about the plan of treatment, need for investigation, diagnosis, and prognosis of the illness.
5. Never Get Late to Your Workplace
I believe that punctuality is not about being somewhere on time, but it is about respecting your commitments. As a healthcare frontline worker, one must understand that punctuality is very important. Not only does it create a positive image among your managers, but also if you are punctual or a few minutes early at your work, it may save someone's life.
6. Try Not to Indulge in Bad Habits
As they say, bad habits don't take you to a bright future, it is important to not indulge in such habits. It is advised not to get into smoking, excessive alcohol consumption, unnecessary use of smartphones at the workplace, being away from your desk, sharing internal data/information with outsiders, personal biases, favouritism, and the list goes on. One should avoid it as the healthcare profession is considered to be very noble and such habits at the workplace may harm your professional image or lead to unwanted consequences.
7. Ignoring Patients' Rights
Patients' rights as human beings are the most important code of conduct between them and healthcare workers. One should be very careful about patients' dignity, confidentiality, and consent to avail or deny treatment. Patients are very sensitive to their rights and expect responsible behaviour from the hospital and its staff. Make it a practice to always be sensitive to uphold their rights at utmost priority.
8. Never Get Rude with Patients
Disrespectful behaviour and getting rude to patients can create a lot of issues within the organisation. These behaviours arise due to reasons like events influencing mood, attitude, personal frustrations, system failures, etc. Hospital managements always put efforts to address these issues and set up different codes of conduct, and strategies to manage these situations.  But it is our individual responsibility to avoid these behaviours at a personal level while working in a healthcare setup.
9. Avoid Assumptions 
As a healthcare professional, it is important for you to avoid assumptions and document the correct information as provided by the patient and relatives in his/her own words. The correctly documented information plays a vital role in the prevention of complications and timely diagnosis of the diseases as well as its management. Making assumptions may neglect very important information, which can play a vital role in a patient's management.
10. Never be Self-centred
Always remember that you cannot expect everyone and everything working according to your choices. You ought to work in a team and shall carry all the attributes of teamwork. Being egoistic and self-centred leads you to nowhere and often creates a negative image of yourself among your teammates.
11. Avoid Overtime
Working overtime can affect your work efficiency and can create less job satisfaction. It is observed that organisations never want their staff members to work extra hours and expect them to complete their work within their timelines. Working overtime often reduces your productivity hence 'Time Management' plays an important role, here.
Conclusion
"Like everything else, for us to be good at something, we have to practice", so one can avoid doing things listed in our anti-bucket list and avoid negative consequences at healthcare setups. This anti-bucket list suggests that one should not only learn technical/professional skills but shall also inculcate soft skills along with good work ethics in them before becoming a healthcare professional. Here at Tech Mahindra SMART Academies for Healthcare, we not only train our students technically but also train them with soft skills and English. We also focus majorly on skilling students with all the required skills while keeping in mind the Anti Bucket list mentioned above.