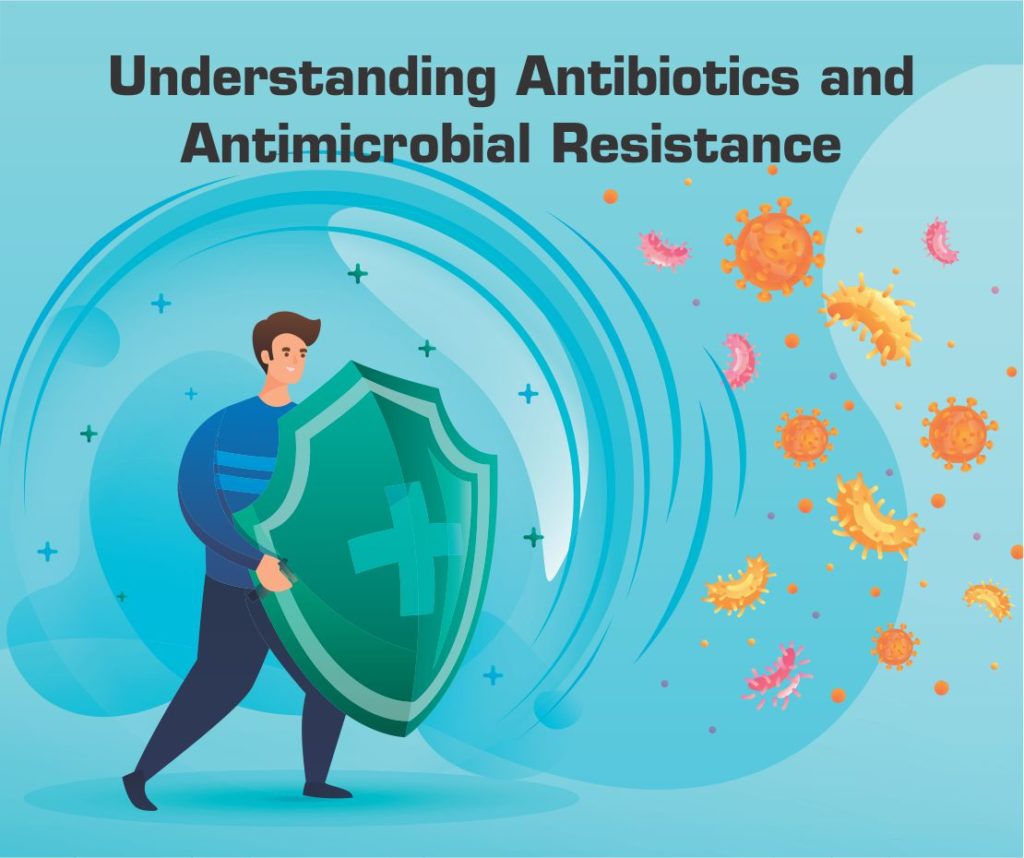 Antimicrobial resistance is becoming one of the most pressing health problems globally with the emergence and spread of superbugs that have led to antimicrobial resistance. It is threatening our ability to treat common infections using antibiotics in humans, animals and plants. Though antibiotics are important medications, their misuse or overuse are key factors that contribute to antibiotic resistance. The continuous rise of antimicrobial resistance globally is pushing us towards the post antimicrobial era where a small infection or a surgery will become life threatening.
Considering the global threat posed by the misuse of antibiotics, Tech Mahindra Foundation took a proactive approach to spread awareness about the problem of antimicrobial resistance through a webinar on antibiotics. I, Dr Khalid Bin Hamid, was delighted to interact with the aspiring paramedics pursuing courses in Tech Mahindra SMART Academies for Healthcare and share my knowledge with them on antibiotics and antimicrobial resistance. This blog highlights the key valuable insights on Antibiotics shared during the webinar.
Why is Antimicrobial Resistance becoming a Global Threat?
There is an acceleration in the misuse/overuse of antibiotics in humans and animals. China, the United States, Brazil, India and Germany are the leading five countries with the largest share of global antimicrobial consumption in food-animal production. Therefore, antimicrobial resistance has emerged as a serious health problem taking a toll on healthcare systems globally. In fact, antimicrobial-resistant infections are causing around 7,00,000 human deaths each year. Moreover, as per WHO, drug-resistant diseases could cause 10 million deaths each year by 2050. 
Unfortunately, drug-resistant superbugs threaten to gain an edge in the fight against bacterial infections. The resistance to antimicrobials could force up to 24 million people into extreme poverty by 2030. According to WHO, we might be entering an era where treating even simple infections will become impossible. So, let us dive deeper to understand antimicrobials and antimicrobial resistance and why antimicrobial resistance occurs. 
What are Antimicrobials?
Antimicrobials, including antibiotics, antifungals, antivirals, and antiparasitic, are medicines used to prevent and treat infections in humans, animals and plants. The antimicrobial medicines are grouped according to the microorganisms they mainly act against. The antibiotics either slow down the growth of microorganisms (Bacteriostatic agents) or kill them (Bactericidal agents). 
Antimicrobial Resistance (AMR)
Antimicrobial Resistance occurs when bacteria, fungi, viruses and parasites change over time and stop responding to medicines making it difficult to treat infections and thereby increasing the risk of disease spread, severe illness and death. Antibiotics and antimicrobials become ineffective as a result of drug resistance.
How Antimicrobial Resistance occurs?
Antimicrobial resistance occurs when the bacterium changes somehow and becomes capable of defeating the antibiotics designed to kill or stop them. The bacteria may protect themselves through:
Intrinsic resistance-

It is a naturally occurring trait arising from the organism's biology to resist an antibiotic or family of antibiotics through its inherent structural or functional changes. For example- Resistance to

cephalosporins by

Klebsiella infection.

Acquired resistance-

It occurs when the bacteria obtain the ability to resist the antibiotic through mutation or gene transfer. For example: Mycobacterium tuberculosis is drug-resistant tuberculosis.
Factors of Antibiotic Resistance
The major factors that drive the rise in antibiotic resistance are as follows:
Factors
Reasons

Drug-related 

Over the counter availability of antibiotics.

Counterfeit and substandard drugs are causing suboptimal blood concentration.
Irrational fixed-dose combination of antibiotics
Scarce antibiotic-related policies at ground level

Environment-related 

Huge population and overcrowding.

Poor sanitation
Ineffective infection control practices.
Widespread use of antibiotics in agriculture and medicated cleansing products

Patient-related 

Poor adherence to dosage regimens

Poverty
Self-medication- The prevalence of self-medication of antibiotics ranges from 17-85%, as per different studies in India
Misconception

Prescriber-related 

Inappropriate use of available drugs

Overuse of antibiotics
Inadequate dosing
Lack of knowledge and training
Things to consider before selecting Antibiotics
Antibiotics are prescribed and introduced mostly by Doctors, Nurses and paramedics in some cases. As medical and allied healthcare professionals, we should be very diligent in selecting, prescribing and dosing the regimen of antibiotics. By doing so we can prevent more acquired antimicrobial drug resistance. Antibiotics should be based on the following standard protocols:
Disease to be treated:

In selecting the right antibiotic, it is crucial to consider the nature and seriousness of the infection. So, before choosing the antibiotic, take into account the bacterial infection being treated like sepsis, pneumonia, or any other bacterial infection. 

Causative pathogens:

Identifying the pathogens causing the infection is imperative to select the right antibiotics.

Existing drug resistance (if any)

: Antibiograms are an important tool to detect and fight antibiotic-resistant organisms. Antibiograms help in the identification of problematic pathogens and selection of the right antibiotic. Moreover, it is important to know whether the patient has Methicillin-resistant Staphylococcus Aureus (MRSA), Vancomycin-resistant Enterococcus (VRE), Multidrug-resistant Organism (MDRO), etc.

Medical History:

Antibiotic therapy differs based on patient factors. The use of antibiotics varies based on patient factors such as age, physiological state of the patient (e.g. pregnancy, HIV, immunodeficiency), organ function (e.g. renal, hepatic function), genetic variation, allergy or intolerance. Therefore, the detailed medical history must be taken into consideration while prescribing antibiotics.

Target Organ:

Antibiotic therapy should be given based on which organ is infected, like the brain, stomach etc. For e.g., when the brain is infected, then the antibiotic with the highest concentration in the brain should be given.

Drug Allergies:

Before prescribing an antibiotic, one must consider the possibility of allergies or other serious reactions to the drug. In case the patient is allergic to a specific drug, they must not be given that antibiotic.

Dosing Regimens:

Dosing is critical, and therefore the dosage regimen should include frequency of administration, dosage per administration, the time interval between doses, duration and how to take the antibiotic. Also, the patient's medical history should be considered before deciding on antibiotic dosage.

Toxicity:

Certain antibiotics have toxic effects, so healthcare professionals must know the side effects of antibiotics before prescribing them.

Drug Administration on basis of Formulation:

In case of severe bacterial infections, the antibiotics are usually given by injection and if the infection is controlled, the antibiotics can be given orally. Moreover, how an antibiotic is administered also depends on the formulation of antibiotics and their bioavailability.

Cost:

It is very important as many patients cannot afford costly antibiotics. So, we need to choose cost-effective antibiotics that are effective in treating the infection yet are pocket-friendly.
Closing Remarks
Antibiotic resistance has emerged as the biggest threat as antimicrobial resistant bugs can affect anyone at any stage of life. Antimicrobial resistance is making infections such as pneumonia, TB, gonorrhoea, and salmonellosis harder to treat as antibiotics used for treating these infections are becoming less effective. This resistance even leads to longer hospital stays, increased medical costs and higher mortality. So, safe use of antibiotics is vital to winning the fight against antimicrobial resistance and superbugs. One of the best ways to cater the antimicrobial resistance at institution level is antimicrobial stewardship policies. Antimicrobial stewardship is the optimal selection, dosage, and duration of antimicrobial treatment that results in the best clinical outcome for the treatment or prevention of infection, with minimal toxicity to the patient and minimal impact on subsequent resistance.