Are you familiar with cloud computing careers?
It's gaining popularity and today, I plan to do a deep dive into cloud computing as a career option. 
Why Cloud Computing?
You may have often heard of the unmet demand for cloud computing. The rise of interest and usage of cloud computing career opportunities has exponentially changed the skill set required in the modern industry. As more and more companies turn towards cloud-based services from their traditional data-centric approach, many cloud computing career opportunities have emerged in the job market. 
With this market scenario, there is a surging need for IT Teams and cloud computing professionals to manage the cloud-based architecture. There are various cloud computing jobs prevailing in the market these days including internships, architects, developers, DevOps engineers, security professionals and data scientists who continue to be actively involved in cloud-related job roles pertaining to its deployment, maintenance, management and more. In fact, research confirm that almost all types of companies have adopted cloud-based models, and cloud computing has grown to about $300 billion business worldwide. 
This gives rise to the most basic question, what is cloud computing?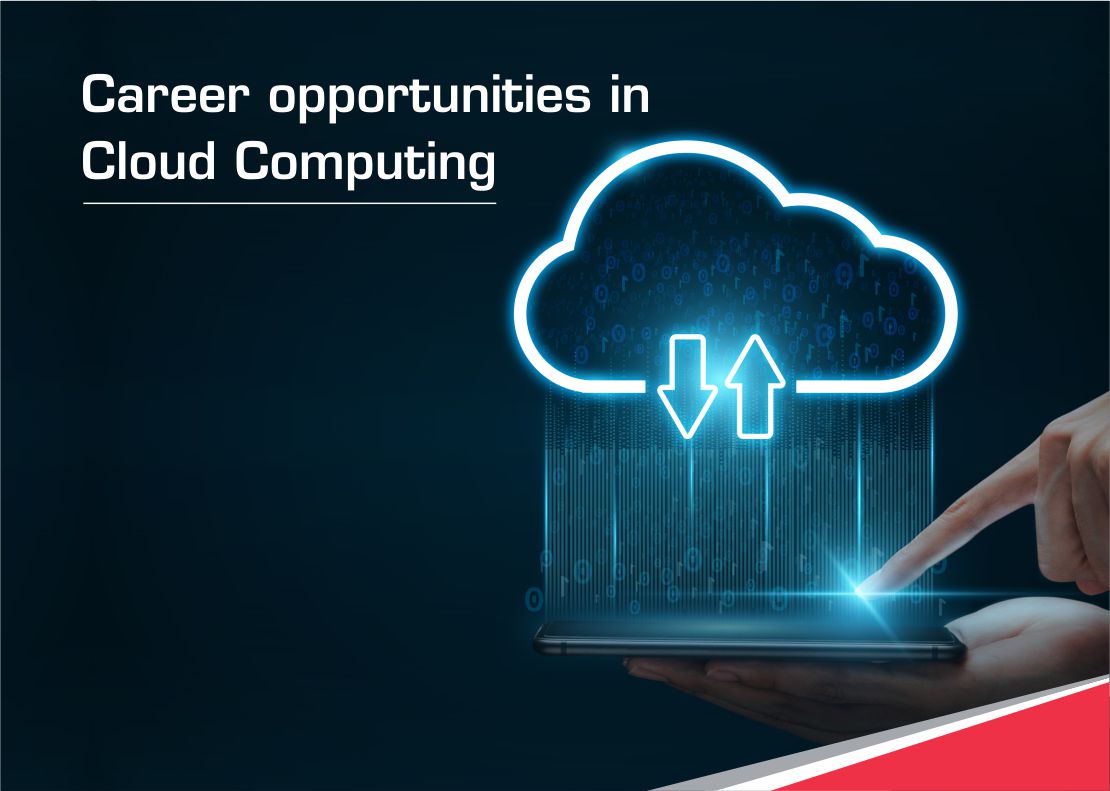 What is cloud computing?
Cloud computing is a virtual space that provides services hosted over the Internet, such as servers, databases, networks, analytics, and intelligence, ensuring innovation, flexibility, and cost effectiveness. Depending on the needs of the industry, features such as data analytics, machine learning, and artificial intelligence are leveraged to help both large and small businesses. 
Cloud computing has revolutionized the way documents and data are stored. Nowadays, you don't need to store your data on floppy disks, CDs, or USB sticks, but thanks to cloud computing, you can access them anytime from any end device. 
Cloud computing is a way to provide IT services that retrieve resources from the Internet through web-based tools and applications, as opposed to direct connections in traditional systems. Companies that provide cloud computing services are called cloud providers and have different types of service models based on customer needs.
What kind of skills are needed for better career opportunities in cloud computing?
To better understand and evaluate related opportunities, you first need to understand the different skills needed for a better cloud computing career. It usually requires some background knowledge of networking, storage, and virtualization. 
Apart from that, a few very important cloud computing skills in demand in the job market are:
Database skill

Understand the server less architecture 

Cloud model types and their properties 

Cloud migration and deployment techniques 

DevOps and Agile Development Methodologies 

Automatic scaling and migration techniques 

Machine learning and artificial intelligence
Which companies provide cloud computing services (CPS)?
Now let us understand the different companies that provide cloud computing support and services. Modern cloud service providers offer all the different services that help users to migrate, upgrade, auto-scale, monitor, and protect cloud data in diverse ways to improve availability and utilization.
Few top cloud service providers (CSPs) are:
Amazon Web Services (AWS)

Microsoft Azure

Oracle

Google Cloud

IBM Cloud

Alibaba Cloud

SAP

VMWare

Salesforce
How much time does it take to learn Cloud Computing?
Innovations in the cloud and cloud frameworks span a variety of areas. As estimated by International Data Corporation (IDC), by the year 2024, about 40% of organizations will implement dedicated cloud services and 60-70% of all different products, management and innovations will use the cloud. As an early adopter, it is more advantageous to estimate the time required to acquire cloud skills for a better career in cloud computing. The length of hours depends only on existing knowledge of IT and cloud architecture. One could do a degree in cloud computing which requires four years of dedication or also choose to undertake shorter duration certification courses. 
What kind of cloud computing job roles are available?
To take full advantage of cloud computing career opportunities, you need to understand the different cloud computing career opportunities and roles available in the cloud. 
Let us take an example here – Over the last three years, we found that major job search portals like indeed.com have seen a 108% increase in cloud-related job searches (cloud architects, cloud developers, cloud engineers, cloud security, etc.). Not to ignore, employers' interest and enthusiasm have also risen. The different jobs available in the areas of the cloud computing market are as follows- Cloud Administrator, Cloud Architect, Cloud Engineer, Full-stack Cloud Developer, Cloud Service Developer, Development Operations Engineer, Jr. Network Administrator, Information Technology Architect, and many more. 
A certificate course option 
Our time is witnessing the peak of using digital technology in our daily lives. Digital technology allows you to take advantage of vast collections of information and communication data. Due to this rapid digitization, the demand for digital carriers is also increasing. As the world changes at an alarming rate, new sectors, industries, and career paths have emerged, making cloud computing one of today's most challenging careers that rarely existed 10 years ago. 
To bridge this gap between the skilled workforce and the ever-growing demand of the industry, the Tech Mahindra Foundation launched the first SMART Academy for Digital Technologies in Visakhapatnam in 2017 followed by the next Academies in Hyderabad and Mohali, respectively. These SMART Digital Technology Academies are equipped with the latest computer systems and software to skill and upskill people according to the needs of the industry. A recent addition to the offered courses is Amazon Web Services (AWS) re/Start program on Cloud Computing. 
AWS re/Start program is ideal for students or freshers who wish to start their career in technology to become skilled cloud computing professionals. This program is also a great opportunity for those with existing knowledge to get upskilled and excel in their careers.
After completing the Cloud Computing AWS Re / Start program at the Tech Mahindra SMART Academy for Digital Technologies in Mohali, Hyderabad, and Vizag, students can start a full-time position in cloud technology. This course is aimed at unemployed or underemployed individuals who want to begin their career in cloud computing technology. In addition to technical skill training, students are taught professional skills such as effective communication, resume writing, and interview preparation coaching to prepare for work. Click here to access the curriculum and application form.
What does all this mean?
Now you are familiar with all the differences. To be successful in cloud computing, you need to have a long-term plan. Also, understand the details of cloud computing and take on-demand courses in the cloud and related fields. Good luck and best wishes!