Nowadays, it is hard to find a business that doesn't need a Graphic Designer. Almost every organisation have their digital presence and graphic designers play a major role in creating this space. A significant trend has been the rampant usage of social media. Not just has social media grown as a platform, the way it is being utilised has also changed. Marketers ad businesses are now focusing on using the different social media channels such as Facebook, Instagram, YouTube, and Twitter, etc. effectively. The advent and potential of these social media channels are bringing the much-needed skills of graphic design into the limelight. With such innovations, graphic designing is becoming one of the most popular career choices for young aspirants.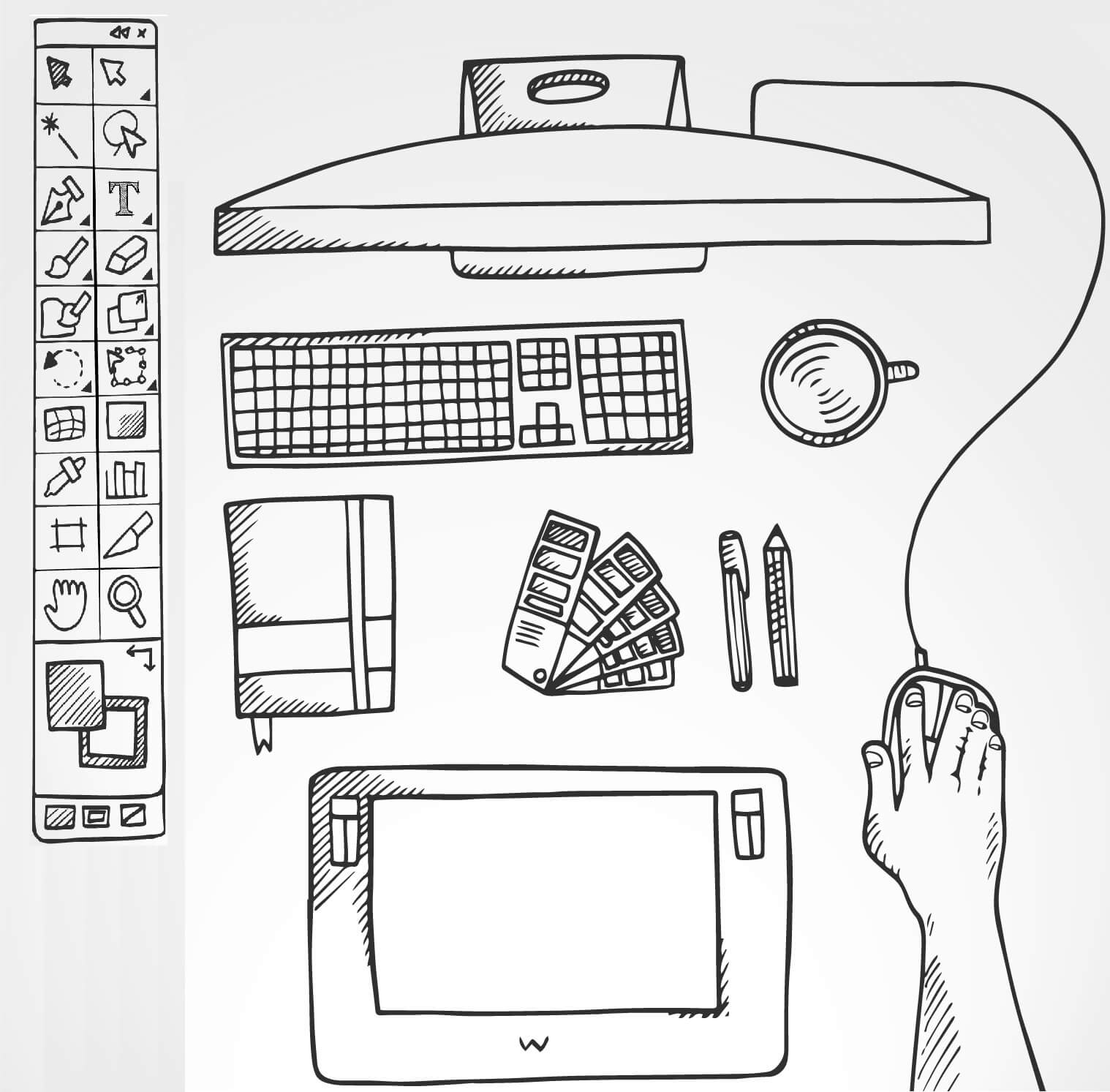 A graphic designer is the one who creates art out of an idea and communicates the required message to the user. With the advent of technology and the ever-growing needs of business industries, modern graphic designing is the application of design anywhere and everywhere. Today, you can make or break the image of a brand through effective and skilled graphic design. All the social media posts that you all seem to adore are the results of the efforts, creativity, and thinking of the designer and team.
How does a Graphic Designer Play a Role in Social Media?
Graphic designers play a key and indispensable role when it comes to social media because users constantly need to be engaged with real-time and innovative content. The different businesses today use marketing and advertising agencies to develop content that is not only visually attractive but is also sophisticated, appealing to the smart user of today. New categories of designs such as memes, GIFs, banners, and other imagery help in enhancing the overall experience of users. To be successful in Graphic Designers today are not merely expected to learn programming and web design, they also must have completed a quality graphic design course. In addition to that, they need to work in tandem with user experience architects, content strategists, and other digital marketing professionals to lift the brand name of a company or an individual.
The designer also needs to be very aware of the current social media trends and the different ways in which content can be published. Graphic designers for social media need to constantly and regularly update their design sensibility, technique, and content to keep the users active throughout. They also need to stay in sync with all the new changes and ideas that can be applied in the design industry and through proper graphic design certification, this can be made possible. The demand for creating new ads or playing with the typography lets designers make a place for themselves and create something unique and stunning.
There is no doubt that the big social sites like Facebook, Twitter, Instagram and Pinterest always need to hire savvy and innovative graphic designers. Most businesses, including e-commerce enterprises, mobile applications, marketing agencies, constantly need graphic designers, for digital usage as well as to promote their brands on social media. Businesses today are increasingly relying on social media marketing to expand their revenue and sales. This obviously wouldn't be possible without the help of graphic designers.
Importance of Graphic Design in Social Media
Digital Natives: Digital natives are a term for those people who were born during or after the introduction and use of digital technology. They live in a world of excess stimuli that is provided through the various social media channels and this generation only looks for high-quality content. Keeping them engaged is of prime importance and only a graphic designer can create such eye-catching information for these digital natives to enjoy.
Lack of attention: Nobody is interested in reading too much information. Consider the limitation of 140 characters on Twitter. Hence the need for strategic design that can communicate the message instantly.
Helps enhance the brand reputation: Any design or even a logo has a huge role to play today when it comes to generating recognition and popularity of a certain brand.
No wonder, more and more students are looking to enrol in graphic design courses. Social media is an attraction for them primarily because:
They dabble in a creative space. Social media designing is less restrictive, more innovative.
The huge demand is a big factor. The growing social media market makes graphic designing even more lucrative than it already was.
The field is constantly evolving. The designers of today can be an integral face of the changing landscape of a field that it still so new. In a way, they can be the trendsetters.
Graphic designers today play a key role in the digital world and as a career, graphic designing is the need of the hour. There are tons of ways and methods that can be undertaken to achieve success in this area.
Today, there are many renowned institutes such as SMART Academies for Digital Technologies in Vizag, Mohali and Hyderabad where one can enrol into their Graphic Designing courses. Aspirants can opt for either the online or offline classes. These Academies are state-of-the-art institutes where students are trained by expert faculty members. Also, on completion of the course, a placement team will offer job assistance to students.