The medical, paramedical and allied healthcare sectors are exploding both in terms of demand and respect. Medical Sales Representative is a related career stream of this sector. If you want to know more about the Role of a Medical Sales Representative, the need for professional training, requirements of a Medical Sales Representative and How to Become a Medical Sales Representative, then this blog will help you understand the above aspects so that you can make a decision accordingly.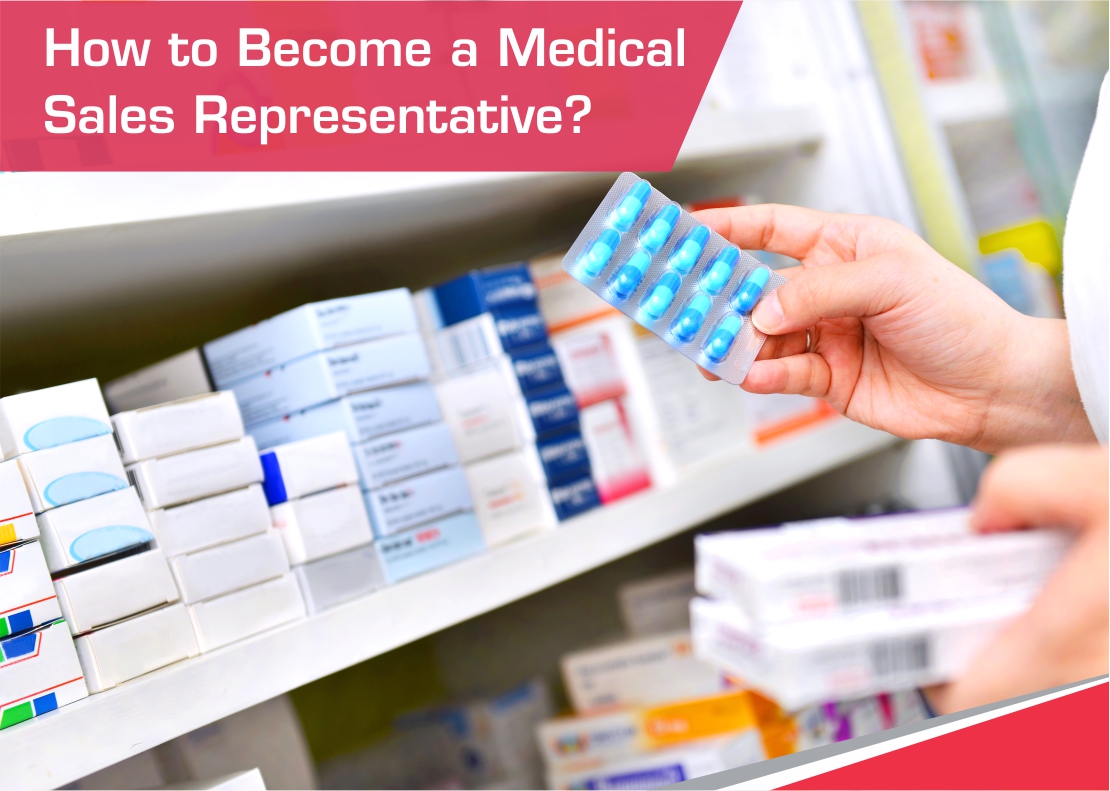 Let us begin with understanding what a Medical Sales Representative does. 
Role of a Medical Sales Representative
Medical representatives serve as a vital link between pharmaceutical companies and healthcare providers. The duties and responsibilities of a medical sales representative are :
Finding relevant healthcare professionals. 

Connecting and scheduling appointments with doctors, pharmacists, and healthcare professionals to recommend company medications. 

Having good research and precise understanding about the medications they are going to sell. 

Having good relationship management skills to maintain good, ethical relationships with the customers to encourage repeat purchases. 

Carrying forward research to analyze the company's competitors for a better understanding of their market performance and how the company can stay on the top. 

Building business strategies and following up with leads generated by the company for better sales. 
How Medical sales is different from any other sector of sales or marketing?
Medical-sales is different from any other retail sales or marketing because of the following reasons:
Consumer is not the customer

: Consumers for Pharma and the other medical fields are the patients who are end-users, but they do not have the options to select the product which is typically a medicine. A patient will use the same brand of medicine and drug as prescribed by the doctor. So here, consumer is not the customer, rather, the prescribing physician or doctor is the customer.

Well-qualified customers:

Prescribing physicians, doctors and pharmacists are well qualified, knowledgeable and experts in their field. Convincing them to buy can be challenging and indeed, needs a blend of knowledge, skills and competitive and comparative capabilities.

Nature of Product

: Generally, the product sold by a Medical Sales Representative is a chemical or drug which has the potential to impact the human body cells. We all know that such drugs may have some side effects or complications on the body. One must be careful while giving product knowledge to the customer which should include action, side effects, complications, dose, drug administration as well as contra-indications for the product; as any error in the medical prescription may result in fatal consequences for the patient or the end-user.

Attention Span of the customer:

The physicians and doctors have limited time and attention span to listen to the marketing pitch given by a Medical Sales Representative. They are typically short of time due to their core clinical activities and patient care. As a Medical Sales Representative, one should be capable of pitching the product with the mandatory information in a short duration of time, which actually increases the complexity of the job.

Greater and dual responsibility:

Medical Sales Representative is responsible for dual communication including communication with the manufacturer to the customer and from customer to the manufacturer, which is required for any Pharma or medical device company to grow. So, a Medical sales representative not only sells the product but also carries valuable market research output and clinical research outputs for Pharma and medical device companies, which in turn is used for strategy planning, product refining, product placement and many other related decisions.

Communication skills

: Communication skills required for a Medical Sales Representative not only involve good spoken English but also includes the knowledge of medical terminologies, basics of general pathology and fundamentals of pharmaceuticals and clinical research terms.
Why do we need professionally trained Medical Sales Representatives? 
Everything is getting automated, softwares are helping in reaching out to people & building a strong network and online tools are helping companies to generate sales. However, Pharma or medication companies prefer a personalized connect due to the sensitive and critical nature of their product – Medicines. Hence, as the human connect is essential in generating sales in the medication business, they also know that one of the best ways to generate sales and let healthcare specialists know about their medicines is through a medical sales rep. His/her interpersonal skills, a keen eye for generating sales & a professional background are all add-ons for medical companies.
Every Medical Sales Representative is given a specific target that they need to achieve in time. Being in the modern industry, if old or the existing strategies are being used, these may not be sufficient to achieve the numbers. As stated previously, one needs to have knowledge of medical terminology, basic pharmacology, basic pathology, and the basics of clinical research terms, along with the skills of time management, convincing skills, professionalism with modesty and smartness to achieve the target. This can be acquired only through a professional Medical Sales Representative course.
Medical Sales Representatives are the face of the brand, simple.
Medical Sales Representative Requirements
Now, let's take a look at how you can meet the criteria.
1. Specialization: Based on your professional and personal interests, you need to choose a specialization under medical sales rep. This role comes with a variety of options to be specialized in, such as: 
Medical equipment 

Medical devices 

Biotechnology 

Pharmaceuticals

Wellness and diagnostic products

Healthcare IT products 
You can pick the option that looks more appealing to you. In most cases, you'll be dealing with direct customers to talk about the benefits of your products. 
Make sure that you are in a field of products that you love. 
2. Field experience: After deciding on your specialization, it's time for you to gain some field experience in it. To gain such experience, you can move forward with the options like:
Internships 

Volunteering opportunities 

Job shadowing with an established professional
3. Enrollment in Professional Medical Sales Representative Training: Now, it's time to make the most crucial decision of selecting the right training provider. Although, there are plenty of options out there, we would suggest you to move with Tech Mahindra SMART Academy for Healthcare to learn and kick-start your career as a Medical Sales Representative. 
Within the training, you would get the opportunity to learn about selling medicines, promoting them, enhancing product awareness, doing market research and more. 
4. Networking: Start working on building a professional network. It will help you a lot once you begin your journey as a Medical Sales Rep. 
Growth Insights
You will be surprised to know that even at the onset of the pandemic in 2020 when most of the businesses faced the brunt of lockdowns & restrictions, the average income from the medical sales was found to rise, as reported by a 2021 Media Sales Salary Report. The medical sales industry has a high-earning potential; it's just you need to be on top of emerging technologies, trends and related knowledge.
The Medical Sales Representative field is for folks who are passionate about networking, travelling, and a challenging & rewarding career. In this field, one can start from a Medical Sales Representative Executive to an Area Team Leader, then from District Team Leader to a Regional Manager who grows as a Zonal Manager and gets promoted as the National Manager and further become the Asia Pacific Manager. The sky is the limit to growing vertically and horizontally by expanding the products in medical sales.
Medical Sales Representative at SMART Academies for Healthcare
Get in touch with Tech Mahindra SMART Academy for Healthcare to become a professional Medical Sales Representative. 
The course curriculum for Medical Sales Representative at Tech Mahindra SMART Academy for Healthcare covers significant topics such as Pharmaceutical Marketing, Introduction to pre-sales activity, Pharma and healthcare services sales, Organizing medical events and conferences, Exercise & case studies and much more.
Apart from the sales, the course provides you with an insight to the human anatomy, important terminologies & definitions, abdomen, back, muscles and much more.
Let's talk about the eligibility criteria: 
Anyone with Class 12

th

(Science/D. Pharma) can opt for the training. 

Minimum age to enroll is 18 years. 

Duration of this course is 4 months. 

Currently, the course is available in Delhi, Mumbai, Mohali, Navi Mumbai and Pune. However, online classes are also available. 
The primary reason to join this training is that you get an industry-specific curriculum with expert faculty for teaching and guidance. In fact, you can also join the online classes. After the training completion, you get personalized job assistance to shape your career well.
Wish you the best of luck!