A checklist for students
As a student, how can you tap into your true potential in order to make the most in these COVID times? As a student of our SMART Academy or any youth, find out what all can you do in these challenging times here. 
The popular brand Nike's slogan 'Just Do It' can be the ideal slogan and guiding mantra for every dedicated student or youth wanting to skill, upskill or reskill.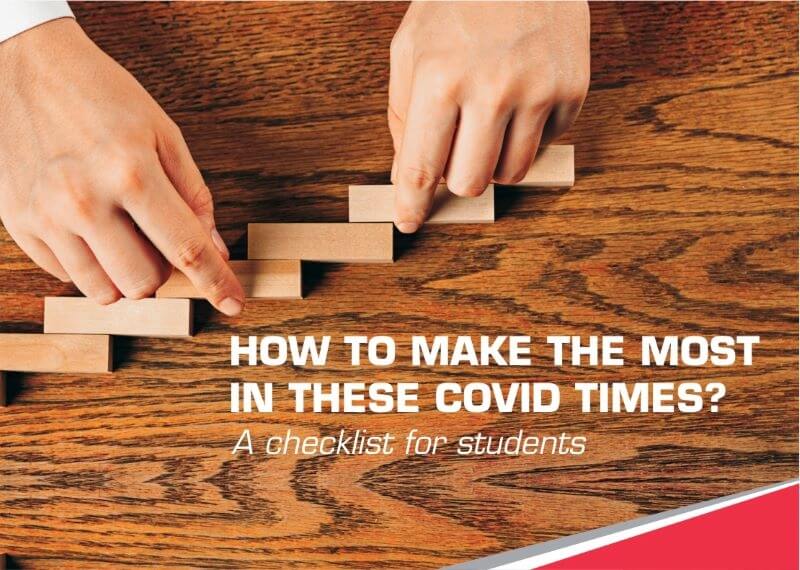 After all the pressure on the economy, affected jobs of parents, access to technology issues, demanding skills, and the psychological impact of COVID on all around, there is still lots left that can be explored. As a student you can focus and work towards fulfilling your wants and needs – which could include the want to get skilled, the need for a better long term career, the wish for a fulfilling life and the urge to do and make the most even in these times. 
So naturally, the question for many students or youths becomes, "How can I make the most in these COVID times and what are the options available to me?"
1. Assess your skills and where do you stand 
First make sure you recognize your true standing. Ask yourself some of the following questions and honestly answer them for yourself. 
What is that I want to achieve in the next 2 years?

Where do I want to get in 5 years?

What are the career choices that are available to me?  

Do I possess the skills that are required or in demand?

Am I really fulfilling my role of as a family member?

Is there anything better that I can do as a student?

How can I contribute to the community?
Look to identify your key motivations, challenges, and basic needs after this self-assessment. Ask yourself what will solve my needs.
2. Search for solutions and aids available
Now you can start to tailor your next steps based on in-depth understanding of yourself, and work on types of interventions that appeal to you at your stage of your career or skilling journey.
Look for career counselling or guidance if you feel that you find yourself confused on what can you pursue. 

Look for Scholarships, Sponsorships options and even check for Govt. aided solutions that can help you in case you feel you are stuck due to financial constraints.

Connect with your faculty members for extra classes and sessions if you need support with any topics or are facing academic issues. 

Be aware of the internship and placement opportunities that are available and coming to the campus. It will give you a sense of the skills and other job requirements and demands. 
Assuming you've established your stand, what you want to achieve, you can certainly explore any of the above or even beyond the above specified list to plan your action.
3. Study at home effectively 
A good place to start is where you are responsible for your studies. In the past, I have written a blog dedicated to How can you Study at Home Effectively where I have covered the basics to learn, study and prepare from Home.
Ensure that you do not compromise on your classes, learning or exam preparation. Continue with your studies, learning and preparation with complete ownership, and discipline as this is your No.1 duty. Work towards creating a study environment at home, and manage your time well. Use this time to your advantage and keep a track of your performance in the planned assessments and go beyond assessments and track your progress. Lastly, stay connected with your peers and faculty members and do not hesitate to ask for help when required. Above all, keep your spirits high by yoga, meditation or indulge in watering the plants, singing, cooking or any other hobby to stay calm and positive.
4. Take action 
Coming back to Nike's slogan 'Just Do It' as a philosophy will urge you to step up, take ownership of your future and action do the needful that is required. For some it could be applying for a scholarship, for others upgrading their skills by joining a course, for yet others concentrating on their studies and getting higher scores to preparing for OJT and interviews for some. Whatever it takes, do your bit as that is going to be your little contribution to SELF, FAMILY and even YOUR COMMUNITY in these times. 
The above list is certainly not exhaustive and many more things can be explored and undertaken. Please do so and share with us too. Good luck to all our SMART Academy students, alumnus and the youth at large. Also, given what's happening right now – I do pray that this surge comes to an end and we get back to normalcy soon. Professionally, continuity is the need of the hour, and making the most in these times has become of even more critical importance than before.