As international borders are becoming more accessible for working professionals, especially for experts in the healthcare field, the importance of English is also significantly increasing. English has become one of the common language of communication across nations in all scientific fields, including the field of medical science and healthcare.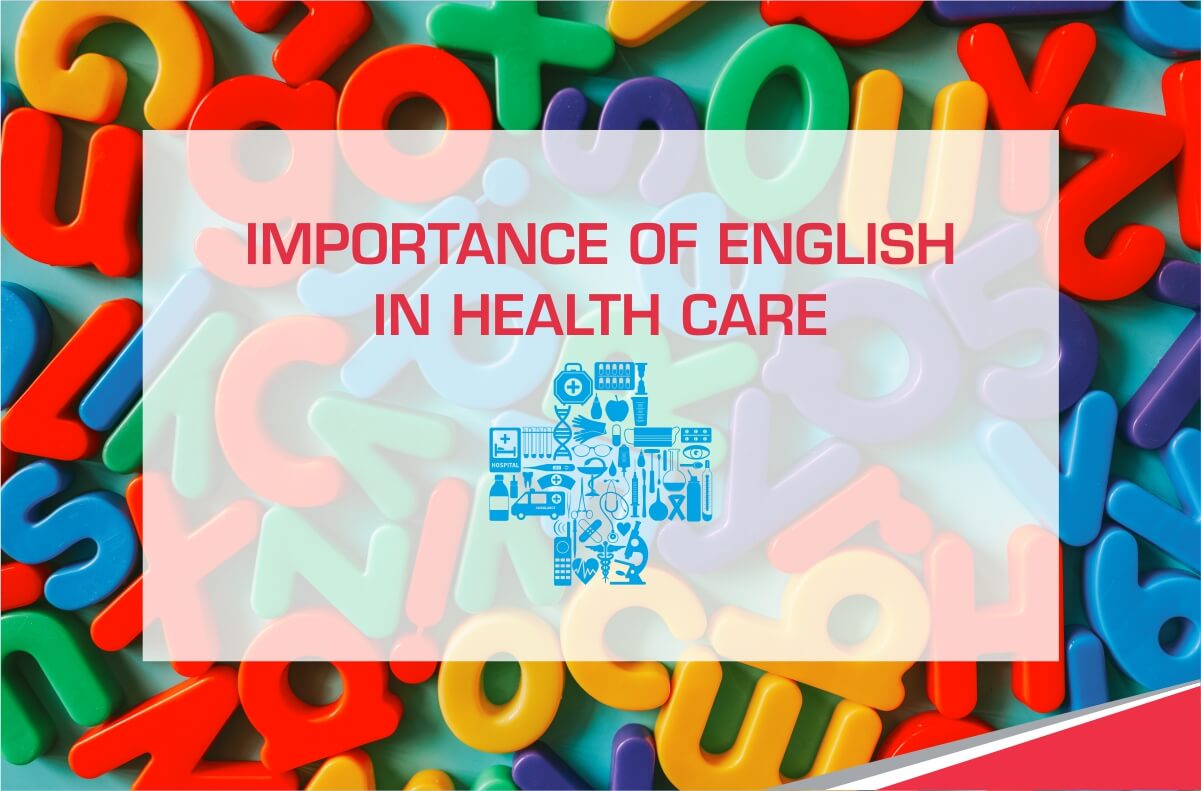 Globalization and accelerated exchange of information requires knowledge of a common language for international communication, particularly for special features and the use of terminology in the medical professions. Consequently, it is necessary to acquire reading skills and a good understanding of the medical literature in the English language for progressing in the field of healthcare.
To communicate and exchange ideas, beliefs, emotions and feelings, English is preferred as a common language in the healthcare sector. Let us see how the knowledge of English language benefits healthcare professionals.
Benefits of knowledge of English for Healthcare Professionals
Good command over the English language occupies a crucial space in the healthcare field for several reasons:
The healthcare professional who speaks English is aware of current trends in the health sector as they can go through the foreign medical journals, latest healthcare & scientific papers, that are generally published in English.
If planning to study medicine/Paramedical in a foreign university, knowledge of English or other foreign languages can be a boon.
It is important to grow professionally, participate in international research projects and English is the medium of most of the events.
Knowledge of English is essential to work in a team with foreign specialists. Many domestic hospitals/clinics cooperate with foreign healthcare institutions, invite foreign experts to work or carry out consultations in difficult cases, to make a diagnosis jointly or to determine the methods of treatment of patients.
Regardless of the occupation, whether you are a doctor, specialist, healthcare or paramedical staff, if you speak one or more foreign languages, you will be considered as a valuable asset in any healthcare institute that is cooperating with foreign partners.
Importance of English in Hospitals
Here are few examples of why the English language is important in a healthcare institute –
Some hospitals have interpreters for communication. But, with the knowledge of local languages, hospital staff should also know English to reassure patients from a foreign country or other states, and handle the situation in a better way.
Most admission forms are either in English or regional languages. Before getting admitted to a hospital, patients and families have to fill forms regarding history of illnesses, allergies, medical issues, etc. and they might struggle to fill the form. Here, a healthcare professional can come and help the family to fill the form.
Drawbacks of not understanding the English Language
Most hospitals in the country use a mixture of the two or more languages in their communication with patients. Hence, healthcare professionals must be proficient in their use of English. In the healthcare field, even the smallest miscommunication could be potentially devastating.
With lives at stake, words need to have pinpoint precision. Healthcare staff needs to be silver-tongued and empathetic individuals to give patients a comprehensive understanding of their health situations.
It is observed that, quite often healthcare providers blame patients for not adhering to medical prescriptions and treatments when the problem may be that patients simply don't understand the medical terms.
Immigrants may know how to speak English but vocabulary related to the medical field is very specific and lends itself to more miscommunication.
Conclusion
Healthcare professionals have many reasons to learn English. In the healthcare industry, people lives are at stake, so any misunderstanding is risky. It is therefore crucial to pay attention to language in fostering a trustful and comprehensible relationship between healthcare staff and both patients and family members. The choice of words used is highly important to avoid confusion and to calm and ease the mind of the family members.
Having considered all the above points, we can conclude that the English is one of the important languages of the healthcare industry. This is the language that connects the professionals, makes it possible to transfer the experience, skills and knowledge and very important to provide quality care to patients.