Are you a student or experienced professional in the area of Graphic Design, Web Design, UI/UX or Visual Effects? 
While aspiring to work or transitioning to work in any of the above career options, you need to be aware of the modalities to execute the design project successfully.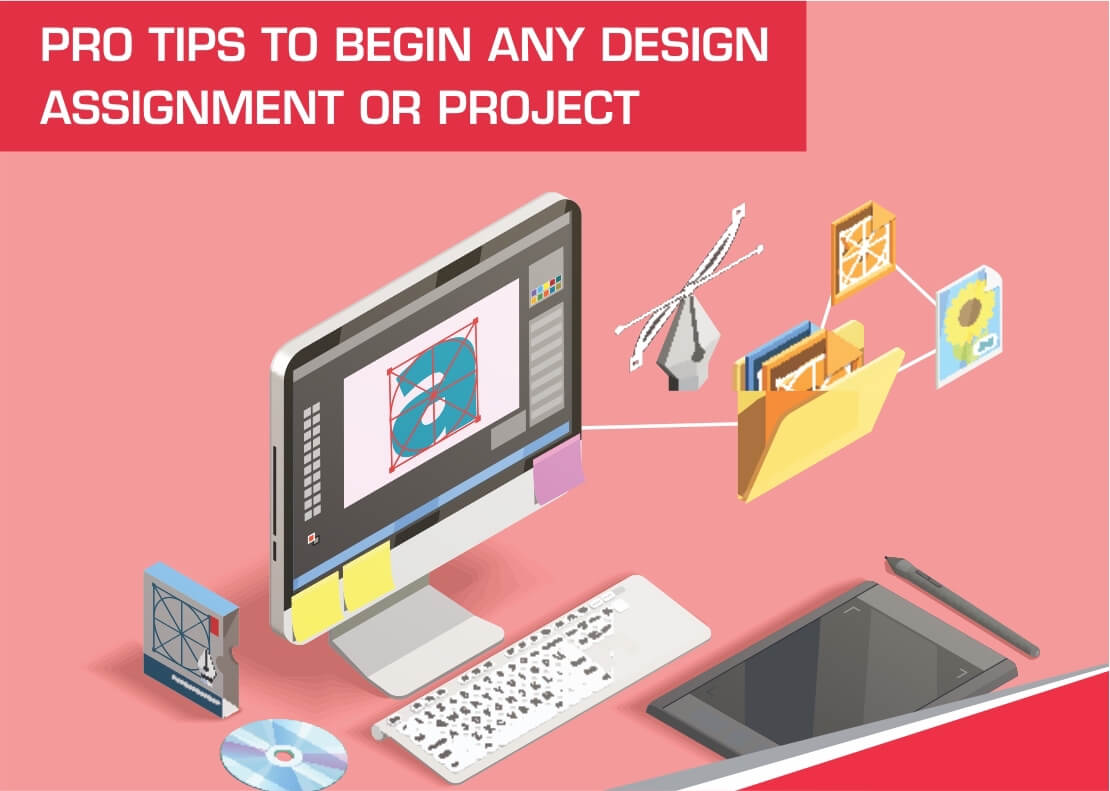 Ask the experienced in the field of design and they'll tell you the importance of visualising the project in its entirety before actually beginning working on it. Starting on a project, especially as a beginner, may seem overwhelming. Professionals working in the field of Graphic Design, Web Development, UI development, Visual effects etc. are usually given briefs at the initiation of the project. While design projects might take time to develop, laying out a broad vision is important. For some, it may be difficult whereas to some it may seem like an easy task. Whatever said and done, it is difficult to pre-empt how much work will go into a particular project or assignment. Being a creatively driven task, there is also a risk of a lack of structure to the thought process. You can have this amazingly creative idea and the design just flows at times, but there could be times when discussions on design can go on for really long and takes up a lot of your time. Thus, this is why having a plan is very important!
No matter what the situation is or what the requirements are, there is a way out to deliver a successful design project. Let's get started.
1. SET OUT YOUR VISION
It is important to assess your goals and set out a vision for the project. Often people end up having multiple ideas or goals, which can eventually be confusing. To achieve a particular goal, you might end up compromising on the final result in such a scenario. Therefore, it is recommended to have two separate ideas for the same project and then move along to see what's working better for you.
2. BE AWARE OF THE TARGET AUDIENCE
'Outside-In' approach is the key to success for an impactful design. Defining the audience and figuring out their needs is significant before starting out. Each demographic demands a different kind of design philosophy and when starting out on a project, ensure that your entire messaging pivots around who you are communicating it to. 
3. PLAN AS PER THE PLATFORM
Another important thing to keep in mind is where will the visual be published. If your audience is on social media apps like Instagram or Facebook, then your design has to be in accordance with that platform which will greatly differ in case it has to be integrated into a Research Report. 
4. DEADLINES MATTER
Closest to my heart, keeping a tab on your deadline is imperative because it will give you enough time to revise the content and figure out what exactly will work. Also, the first design is usually not the final design. Therefore, once your timeline is decided, you can figure out a trajectory for the project and work on it keeping the deadlines in mind.
Designing is a free-flowing art and you can take infinite hours to complete it because of the constant influx of ideas. But, you don't want to waste any precious time and hence, it is very important to work as per a set schedule.
5. RESEARCH
Look at it as a step to seek inspiration. Before starting out and opening design apps, check out the work of some of the other designers or projects similar to the project you are creating. This gives you a great idea of what you should and shouldn't do.
While doing so, hold onto the brief and the information provided. Remember, understanding the brief is critical.
6. PRELIMINARY ACTIVITIES
Whether it is choosing the colours or picking the fonts, taking pictures and keeping them aside. Start with these and keep them aside before you start your design. For those of who you like to create mood boards, this is the time to do that too. 
Graphic designers, UI developers, Visual effects artists are at the centre of all design assignments and projects and their work does require creativity, time and attention. 
When you are deep in the middle of executing a project, it is then that you will start appreciating the professional training and course curriculum that you have gone through. A good course will usually give you enough exposure and hands-on training so that delivering a project becomes easy and you can focus on your core skill, designing. 
Designing a project is not easy unless you are equipped with the skills, aptitude and attitude for it. Above all, ENJOY THE PROCESS. 
I hope you've found these CREATIVE DESIGN tips helpful. If you follow the tips above, you'll be on your way to awesome designs and creative deliverables. Also, for details about the above-mentioned courses, you may reach out to Tech Mahindra SMART Academies for Digital Technologies located in Visakhapatnam, Hyderabad and Mohali.