First aid is an immediate and short term assistance given to any person suffering from either a minor or major illness or injury. It includes initial intervention in a serious condition prior to medical help being available.
First aid involves emergency treatment and support to preserve life through:
Clearing and maintaining open airways
Restoring breathing or circulation
Monitoring wellbeing until the person recovers or transferred into the care of ambulance, doctor, nurse and paramedic
Protect a person, if the person is unconscious
Prevent a condition worsening
Promote recovery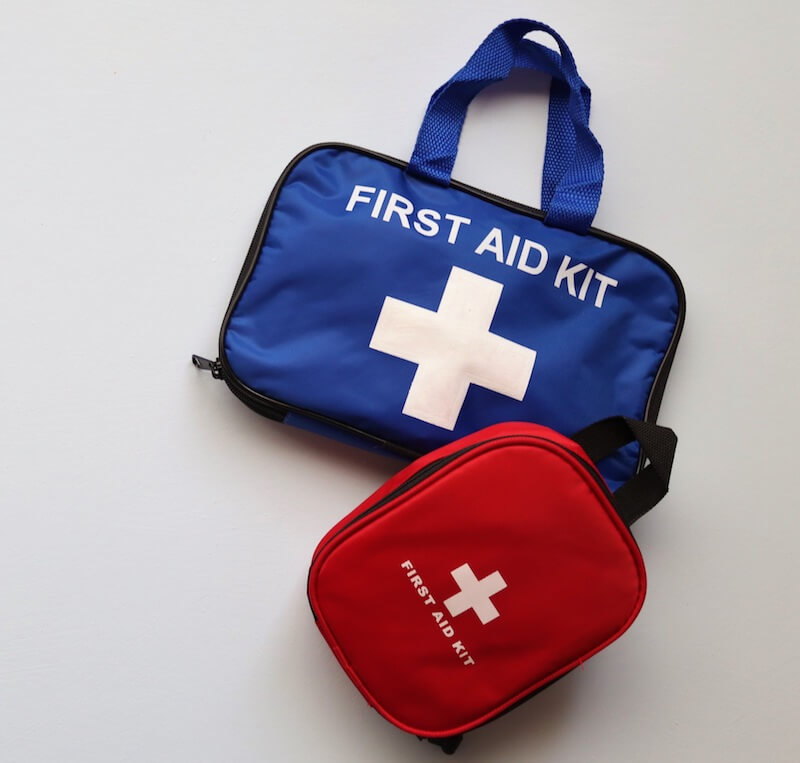 What is Basic First Aid?
The basic first aid includes:
Dealing with cuts, scrapes, sprains, burns and other minor injuries.
Managing eye injuries of different kinds
Immediate washing of the eye after meeting a chemical to save eyesight
Immobilising fractures, sprains and strains of joints
Preventing chocking
Stopping the excessive bleeding
Helping unconscious patient
Workplace-specific First Aid
First Aid is mandatory for all premises and especially at workplaces because a lot of people spend most of the time together in these premises. Therefore, every office/workplace must have their first aid facilities. Let us check the importance of basic workplace-specific first aid here:
The workplace may be an office or a construction site; it has two common traits i.e. employees may be injured or become ill and the need to protect them with adequate first aid procedures.
Remedies for risks like shock, bleeding, poisonings, burns, temperature extremes, musculoskeletal injuries, bites and stings and other medical emergencies.
If employees are not prepared to handle these types of injuries on all shifts and their co-workers are left untreated until an ambulance arrives, a victim's condition may worsen and injuries become far more debilitating, which leads to greater medical costs and lost productivity.
The location and availability of a medical facility in the workplace. If a hospital, clinic or other such emergency response is not readily available, within three to four minutes, there should be at least one employee trained in first aid and CPR per shift. Responding in a timely manner can mean the difference between life and death, so it is crucial that to have an appropriate number of employees trained.
It is the responsibility of the employer to determine the requirements for the first aid program. Assess the workplace, be mindful of the job site or work process that could cause illness or injury to employees. Anticipate types of accidents could reasonably occur in the workplace. Consider it like falls, hazardous machinery and exposure to harmful substances.
Employees must be aware of emergency contact information. It is best to post emergency procedures and emergency office contact numbers in a visible and accessible area.
For organizations in multiple sites, a larger number of employees must be trained. All employees should know how to provide first aid and CPR to ensure that help is always at hand. At a minimum, each department or location should have a responder available on each shift.

Keeping the workplace safe involves three basic elements i.e.
Steps to prevent or minimize accidents
Adequate first aid supplies
Proper first aid training
Should first aid training be mandatory?
Let us explain to you why first aid training is necessary and can prove useful:
Most road accident deaths occur within a few minutes of the incident, between the time it takes for the services to be alerted, and said services to arrive. Here the impact of public first aid knowledge must be considered as a contributing factor.
A report from the WHO indicates that 50% of serious road accident casualties may have been saved if emergency first aid had been administered. In fact, the chances of survival could be doubled or even quadrupled in some cases, if Cardio Pulmonary Resuscitation (CPR) is performed within the first few minutes of a casualty.
First aid training serves to calm the tensions and prepare people for any potential life-threatening scenario, it may be on the road, or at home.
Basic first aid "knowledge" is essential, and it might help keep someone alive until an ambulance and paramedics arrive with oxygen, defibrillators, blood transfusions, adrenalin and other emergency drugs.
Is first aid training mandatory in schools?
Giving training to school children in first aid is always beneficiary, not only for them but for the society. Here is why giving first aid training to school children is mandatory:
It is important to increase the confidence and skills of a nation so that all are ready and capable of delivering emergency first aid to their families, friends, co-workers and even strangers in the street. It is believed that school children should also be prepared to manage first aid care.
The Red Cross believes that every child should be taught basic first aid, and helping them to stay safe and save lives in emergency situations. It will ensure that from the day they learn their new skills, there will be a new culture of first aid, with a whole generation of children growing up with the skills and confidence to save a life.
By teaching children lifesaving skills, they will always have them ready to help their classmates and families, and will take these skills with them wherever they go for the rest of their lives!
There is a need to incorporate first aid training into the school curriculum so that students are able to help themselves and others during a medical emergency.
First Aid Training: Important Points to Remember
Basic principles, such as knowing the use of adhesive bandage or applying direct pressure on a bleed, are acquired through life experiences. However, to provide effective, life-saving first aid interventions requires instruction and practical training. This is especially true where it relates to potentially fatal illnesses and injuries, such as those that require CPR.
Training is generally provided by attending a course, typically leading to certification. Due to regular changes in procedures and protocols, based on updated clinical knowledge, and to maintain skill, attendance at regular refresher courses or re-certification is often necessary.
Paramedical aspirants who wants to update themselves with these courses or wants to become skilled healthcare professionals can enrol into our SMART Academies for Healthcare, located in Delhi, Mohali and Mumbai. These Academies are equipped with state-of-the-art technologies and offer a total of 15 healthcare courses. Apart from training in allied healthcare courses, students are also given training in the Foundation courses like English, soft skills and IT skills.
Conclusion
Knowledge of first aid promotes the sense of safety and wellbeing amongst people, prompting them to be more alert and safe in the surroundings they dwell in. Awareness and desire to be accident-free keep them more safe and secure, reducing the number of causalities and accidents.