In the space of front-end design, the demand for UI Development is fast growing. From websites and applications to niche digital products, UI developers are the ones who make it easy to manoeuvre around with and have a simple but friendly interface to engage the users. As a result, UI development courses have also become popular among job seekers.
UI development leverages the visual appeal of the design and the utility of the product to convert it into a creative user interface. UI developer skills include the technical understanding of front end design and technology. UI developers are expected to work on the backend to make the presentation layer practical and meaningful as well as visually attractive to the user. UI developers can be treated as the catalyst between an idea and its reality.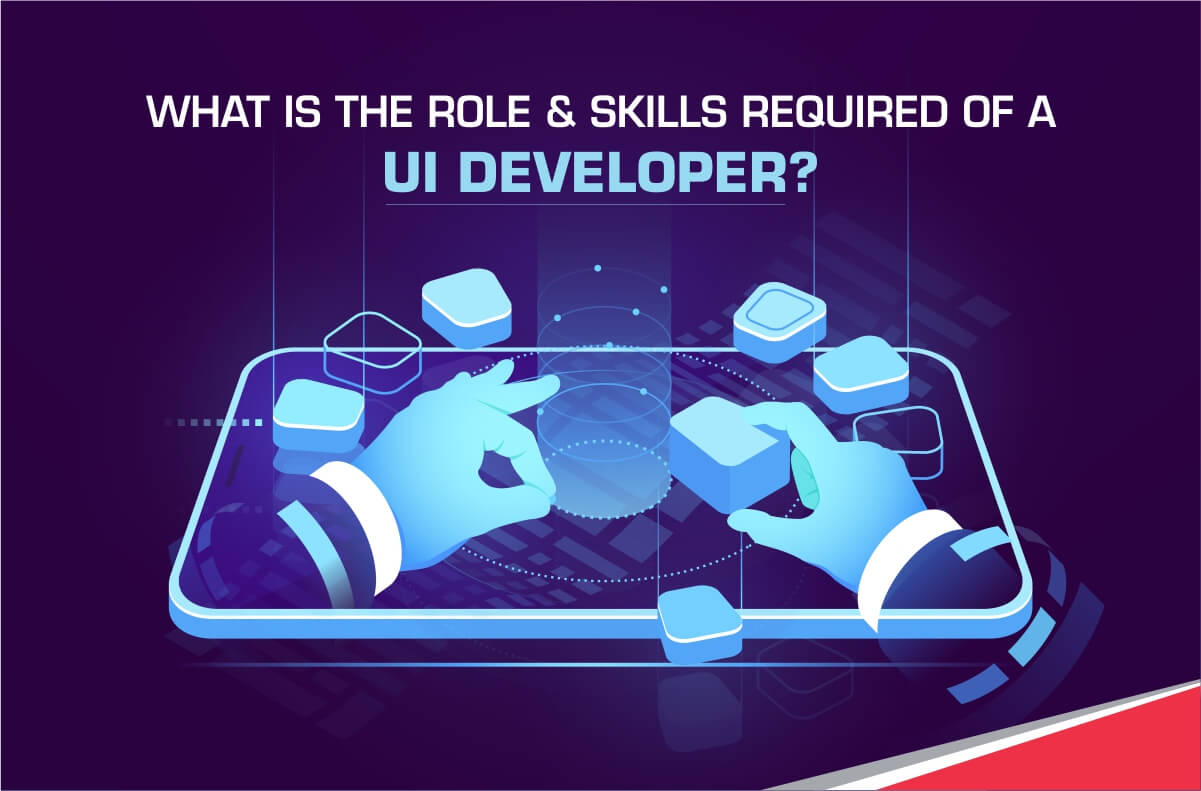 Along with UI development training, a UI developer also needs to have a clear understanding of the different needs of different users. Prioritization of user needs, identification of business requirements as well knowledge of the specific technical limitations of a project, are some of the aspects that a UI developer must keep in mind. We have already outlined some of the pre-requisites of UI development such as HTML, JavaScript, CSS, etc. A good UI development course or certification will have this as a part of the curriculum and should also be able to provide hands-on training for the same.
What does a UI Developer do?
Design Initiation: At the beginning of a UI assignment, the designer cum developer must gain an in-depth understanding of how, why, and for whom the interface is being developed. At this stage, it is also important to understand what the business needs are. Visualization of the product from both backend and frontend are critical to effective UI development.
Technical UI development: Needless to say, technical knowledge is imperative. Along with technical skills, it is also important to know how to put them into practice most effectively, to create user-friendly interfaces. From web languages to web development, UI developers must have these skills on their tips!
Problem-Solving: UI Development is not always smooth sailing. As part of UI Developer training, problem-solving at the back end is a significant skill set to have. Attention to detail, the knack for identifying issues and solving them seamlessly is an important part of UI Development.
Create conceptual diagrams: Not only creating UI for the application, creating conceptual diagrams is a part of UI. Conceptual diagrams bring a lengthy process in simple visual elements that can be understood by everyone.
Usability Testing: Usability Testing is another integral part of a UI professional's role. It includes testing the application/website/platform for:

Recognizing problems in the design, application or service
Discovery prospects to improve
Learning about the target user's needs and deeds
There are many career opportunities for UI developers today. A UI developer course or certification that helps gain practical experience is an important consideration that most employers place while offering jobs. Knowledge of Web Design, Graphic Designing, or Software Engineering or App Development are additional good to have skills to build a successful career in UI development. Along with this, the more experienced a developer, the more value he/she can add to a UI development project.
Should you wish to take up this course, know more. Best wishes for this creative career!