Operating a warehouse is a huge logistical challenge even if you have good theoretical knowledge. For both you and your employees, good management is necessary to keep things orderly. 
One may choose to improve the system by incorporating technology such as digital counting, Radio Frequency Identification (RFID), a Warehouse Management System (WMS) or maybe by making some basic layout changes in a warehouse. For those who understand what supply chain management entails, it can be a very enticing avenue to explore new opportunities.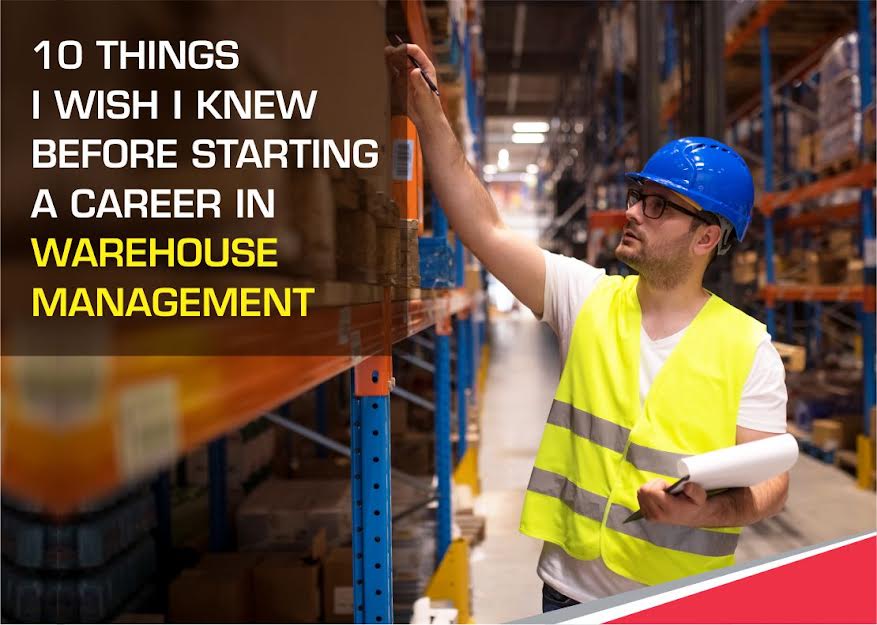 In today's digitally advanced and e-commerce driven world, it's difficult to picture any industry without a suitable warehouse management vertical. Like any other occupational skill, it's one thing to learn about warehouse management, and a whole different world when one gets involved with the groundwork. If you're still wondering whether being a warehouse executive or supervisor is the right career for you, it's time for a quick reality check!
Things you should keep in mind pre Warehouse Management career
Here are 10 most common things that people wish they had known before opting for a career in warehouse management.
1. It's a data driven game!
Warehouse management is a competitive market, so managing it manually can be a bit tricky. Therefore, it becomes essential to have access to technology-driven solutions that provide accurate predictions and can help in improving the planning and execution while lowering operational costs. By implementing data-driven technologies, the organisation can drive efficiency and set new industry standards for customer service. So, choosing the right organisation to work with is a key thing!
2. More than moving and storing goods
Whenever we talk about the surface of warehousing management it always comes down to managing inventory, but believe the experts, it is way beyond this. The intricacy in warehouse management goes from managing resources, information, and finances as items or parts move from supplier to manufacturer to wholesaler to retailer to the customer. However, depending on the business and company, your responsibilities as a warehouse manager can differ substantially. 
3. Timelines will make or break your business
In the supply chain industry, scheduling is one of the most important tasks that should be a priority for a successful venture. One should be able to meticulously plan delivery timelines and trackers in order to maintain a smooth workflow. Any failed delivery or missed timeline is an open door for a competition to grab the opportunity. This is the reason why warehouse managers should always push hard to integrate operations with a suitable management system for maintaining schedules. 
4. More knowledge is better knowledge
In complex careers such as warehouse management, having a broad area of expertise comes in handy. Don't just depend on copied information that regular courses provide, instead look for comprehensive courses that not only educate but also help in enhancing one's practical as well as experience-based knowledge. 
At Tech Mahindra SMART Academy, our certificate course in warehouse management allows you to do just that and even more for learning the fundamentals and acquiring the skills to start a career in the evergreen logistics & supply chain industry. 
5. Soft skills are important too
Besides having immense technical knowledge and experience, to grow your career in the warehouse management profession, you must also comprehend every component of communication, relationship management, and negotiation skills. 
These soft skills become essential when your role is to coordinate between stakeholders and vendors to maximize supply chain efficiency. Working in a team where coordination is the key, you have to have a knack for building transparent relationships to keep the ship running smoothly. 
6. Be as sustainable as possible
Warehousing isn't exactly a career you look for if you're looking in the direction of sustainability and an environment-friendly industry. If you are a supply chain professional you would know the amount of waste generated in deliveries and shipping is alarmingly high. Although we can always change the course of how the industry works and make it as earth-friendly as possible by eliminating 7 wastes, such as waste of overproduction, inventory, defects, motion, over-processing waiting, transportation off-course lean methodology for scheduling deliveries effectively to save time, fuel and money. 
7. Have a strategic mindset
Warehousing is a massive industry that holds the power of running various businesses in almost every industry imaginable product. While you are bogged down with daily duties and responsibilities, make sure to think out of the box and create opportunities for yourself before anyone else. Always look at the bigger picture, thinking and strategizing for many steps ahead.
8. Catch problem in action
Learn. Adapt. Grow. Three things you need to remember while working in a dynamic industry like warehousing. Whenever you feel like the course of action is not in alignment with your plan, immediately halt, fix the issue and then resume. This will help you save time, plan better and adapt to tight deadlines. 
9. No work without a network
Taking the time to meet and listen to the people with whom you do business may go a long way. If you need advice or a favour, you will have those relationships to fall back on, which is important when you are just establishing your career. It could be your boss, a coworker, or someone you meet while working in the sector. Networking can be an essential source of information and can help you in developing better expertise. 
10. There is never a boring work day!
If you have come this far you already know warehouse management is not a basic desk job. Every day is a new experience, and there is so much more to learn from everyone you come across.
Logistics and supply chain management share overlapping skill sets and require a general understanding of all supply chain functions and components, and require a strong command over soft skills. As supply chain activities shift to more complex and high-level tasks, there is a growing need for analytical skills as well. Warehouse management courses at Tech Mahindra SMART Academy will help you acquire these skills while providing an exceptional on-field experience. Now you can choose to achieve a promising career in warehouse management by availing of special COVID scholarships on offer.