Unlike other service industry, the hospital is where people come to visit when either they or their close one is in unwell. This makes the people coming to the hospitals impatient, anxious, curious and maybe low or high level of the resilient zone. Now, here comes the importance or necessity of handling such patients or their family members with more professionalism, compassion, empathy and courteous manner with due following all hospital operational protocols.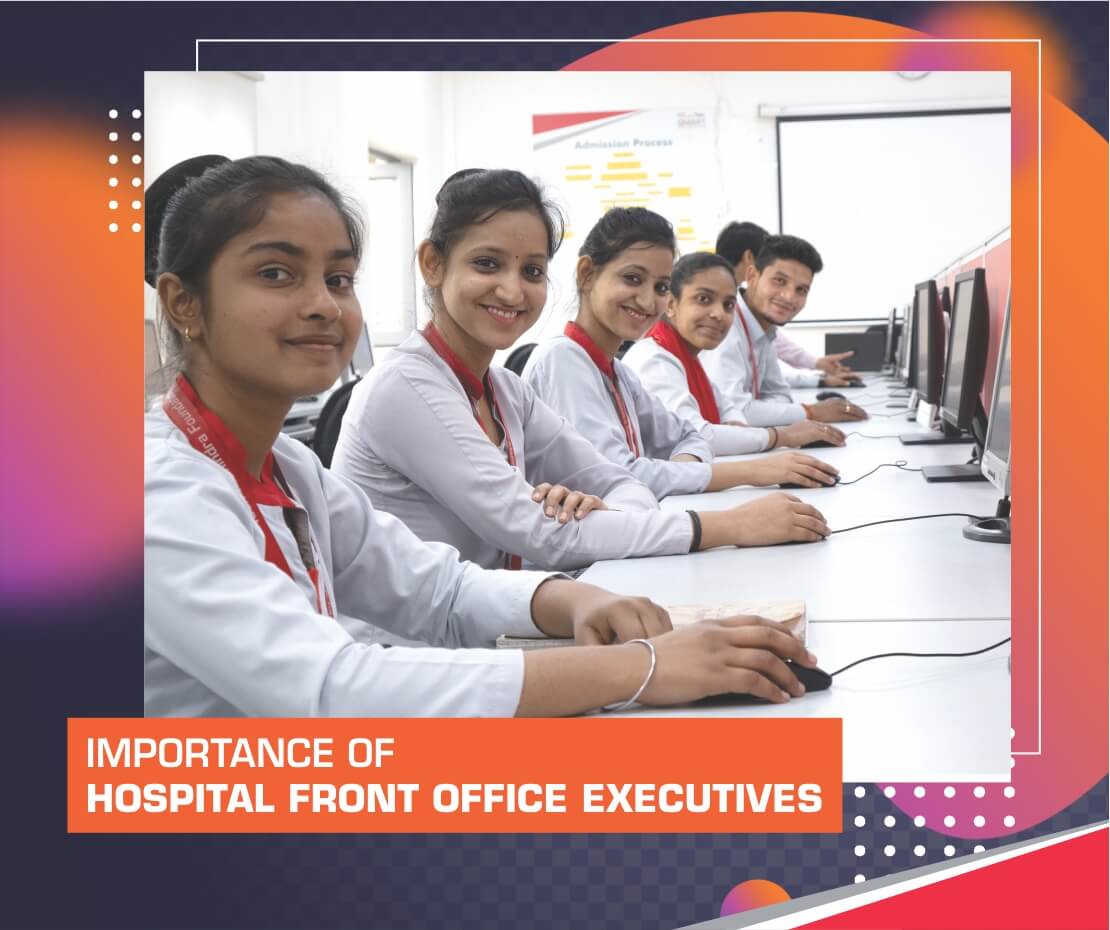 The Front Office is a department of the hospital which directly interacts with the patients when they first arrive. The staffs of this department are very visible to the patients or their family members. It functions as a central point of contact across the organization. The department keeps information and records of all the patients of the hospital. It also plays a key role in forming overall impressions of the services provided by the organization.
The front desk position is often the first person that patients or their well-wishers interact with when making contact with the hospital. So they are essentially the face and voice of the hospital and for this reason, they play an important role in the representing of the organisation. A Hospital Front Office Executive is a person who works in the hospital front office and manages a variety of tasks. Let us know in detail about the front desk executive.
Qualities of a Hospital Front Desk Executive
Here are some of the qualities that a front office executive of a hospital or any healthcare institute must have:
Neat and professional appearance as it maintains professionalism
Being pleasant and approachable
Disciplined and Punctual
Speak multiple languages, especially in the regional language where the hospital or healthcare institute is based
Strong interpersonal skills – working with the team and getting along with a variety of different people
Multitasking capabilities and organisational abilities
Technical prowess
Ability to stay calm under pressure
What are the roles and responsibilities of a Hospital Front Office & Billing Executive?
There are various roles and responsibilities that a Front Office executive should perform at a Hospital or any healthcare institute to make sure that the hospital runs smoothly. Some of the important functions of a Hospital Front Office & Billing Executive are –
A front office executive is responsible for attending the incoming calls, responding to them and transferring the call to the appropriate department
Scheduling the appointments at the correct time and with the correct doctor
Listening to clients and communicating in a positive and confident manner with those over the phone or clients in the reception area
Handling billing and detailing client invoices
Collecting payment to ensure the practice turns a profit so everyone gets paid
Copying, faxing and emailing documents between clinics, hospitals, and patients
There is a whole lot more that goes into making a hospital a great place to work, and even better place for clients to visit, and ensuring things run smoothly and efficiently from the moment the doors open.
How to become a Hospital Front Office & Billing Executive?
There are various educational institutes that offer training in medical billing & hospital reception course. To apply for this course, aspirants are required to be a graduate or pursuing the last year of their graduation. And this course is ideal for candidates who want to manage the medical billing, reception and admin at leading Hospitals.
Tech Mahindra SMART Academies for Healthcare also offers a certificate course in Hospital Front Office and Billing Executive. This course is a classroom program that trains students on medical billing, patient hospitality and hospital reception or front-office management. The course also enables students to eventually make a career in overall hospital management cum admin.
Currently, Tech Mahindra SMART Healthcare Academies are offering this course in online and offline mode. Also, aspirants applying for this course are eligible for a special COVID pandemic scholarship.
Important skills of a Hospital Front Desk & Billing Executive
Every healthcare institute looks for a Hospital Front Office & Billing Executive that has the following skill sets:
Basic office skills and knowledge of medical terminology and hospital
Excellent communication and customer service skills are one of the most important aspects of running a hospital & should be able to convey information to other support staff and medical professionals, as well as patients who visit the hospital
Good computer skills in order to accurately and efficiently process patient information, including payments and insurance claims
Manage the office database and patient records, and manage the physician's schedule
Should also be able to write and prepare reports and transcribe and type medical reports
The ability to listen, and understand the patient's needs and the physician's or other medical professional's instructions
Problem-solving skills i.e. think on their feet and solve problems as they arise, a prompt and courteous response preserves a hospital's valuable reputation
Efficient front office staff enhances the patient experience and reduces wait times, it makes a big difference to patient retention rate and new referrals
The front office and billing executive force is the primary impression of a hospital. With emerging corporate hospital setups and development of the healthcare sector in India, the need for qualified front office billing executives is essential who are responsible for coordinating the daily administration of doctors, staff, visitors and patients at a healthcare facility. They schedule appointments and answer patient inquiries. Therefore, qualified staff with proper knowledge of operations management working as a front desk executive is needed for the smooth running of large scale hospitals and to give quality care to the patients.
This would be fair to say that hospitals can convert the first impression to everlasting impression by hiring professionally trained Hospital front office executives.