The healthcare industry has increased exponentially over the years and with its boom, the demand for trained healthcare personnel has also increased. Each healthcare professional plays an important role in the life of a patient and every one of them are crucial for any healthcare institute. Today, we are going to talk about those allied healthcare professionals whose work often goes unnoticed but we need them almost 24×7 in hospitals and other healthcare institutes. These healthcare heroes are the General Duty Assistants who work round the clock to provide care and assistance to patients around the world. The GDA can also be called a nursing assistant or a medical assistant and are a critical part of the healthcare ecosystem.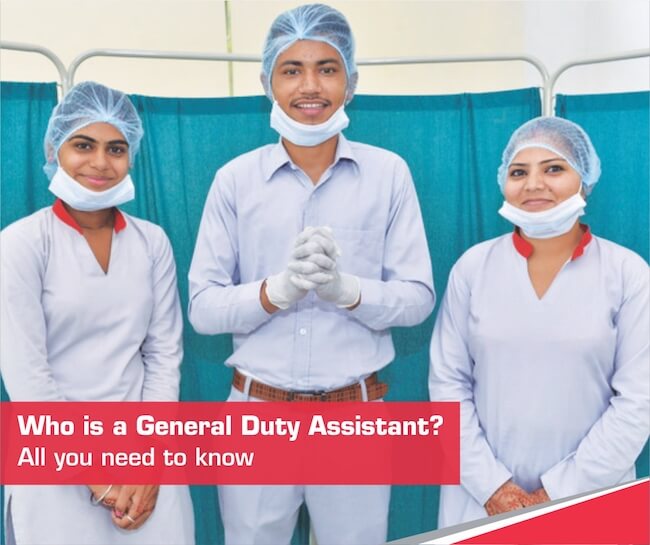 Who are General Duty Assistants?
The General Duty Assistants are the nursing care assistants and aides are meant to perform the patient's daily care and provide them with the utmost safety and comfort. They have to take care of all the health needs and make the patient's environment hygienic and suitable. They are also responsible for making sure that the patients maintain a good diet.
Apart from that, the GDA is also required to work under the supervision or direction of the registered nurse. They must demonstrate personal care skills and should be able to communicate effectively with all the other members of the nursing team. GDA professionals improves the efficiency of the nursing staff by providing them support in easier and administrative task. This enables nurses to concentrate more on severe and critical ill patients.
Additionally, they should take all precautions and be careful about not spreading any bacteria or illnesses while maintaining proper hygiene. Moreover, they should have knowledge and information about how to deal with an emergency and should know how to implement them as well, within the confines of the ethical and legal rules of the medical practice.
Roles of General Duty Assistants
The basic roles and duties that a GDA should perform are: 
Taking daily care of medication, safety, and health of the patients

Providing a psychological support to patient and aide in patient wellbeing

Ensuring that the patients' diet is healthy and well balanced

Putting up drips

Dressing and deeding patients

Maintaining hygiene of the patient

Helping patients get in and out of the bed and also walk around a little

Constant monitoring of health and vitals

Administering the different medicines and vaccinations
As a GDA, there are new challenges and problems to overcome daily and it is considered to be one of the most rewarding jobs. The working hours are fixed but are almost always extended. These assistant works with a big team and has to learn to keep open communication and work together.
How to become a General Duty Assistant?
Look for a professional course to become a GDA. Ensure you have access to the best training from the well-experienced faculty and state of the art infrastructure. With the help of getting practical training in well-equipped labs and theory, you can attain the perfect employee skills for getting a job in this field.
Tech Mahindra SMART Academies for Healthcare are one of the best options for General Duty Assistants. These SMART Academies for Healthcare are located in Delhi, Mohali, Mumbai and Pune and are equipped with state-of-the-art technologies and expert faculty members. Apart from this, these Academies also focus on enhancing the communication skills of students, work on their confidence and English language. Also, on completion of the course, these SMART Academies will provide placement assistance to their students.
A Career as a General Duty Assistant
A GDA deserves honour and respect for being the silent workforce of a healthcare institute. In terms of growth, General Duty Assistants can look forward to career growth in terms of a promotion to become a Clinical Nurse Supervisor and then can even move ahead to become a Head Nurse. 
The job scope of a General Duty Assistant is quite wide and they can find a job in places such as hospitals or nursing homes, old age homes, patient care camps, community centres, and medical charity organizations as well. Once you begin your career as a GDA, you can move on to take the responsibilities of a supervisor or a manager as well. 
The healthcare sector is growing massively and the need for human resources such as GDA will always be there. With the right training and experience, GDA can anticipate a dynamic, growing career.