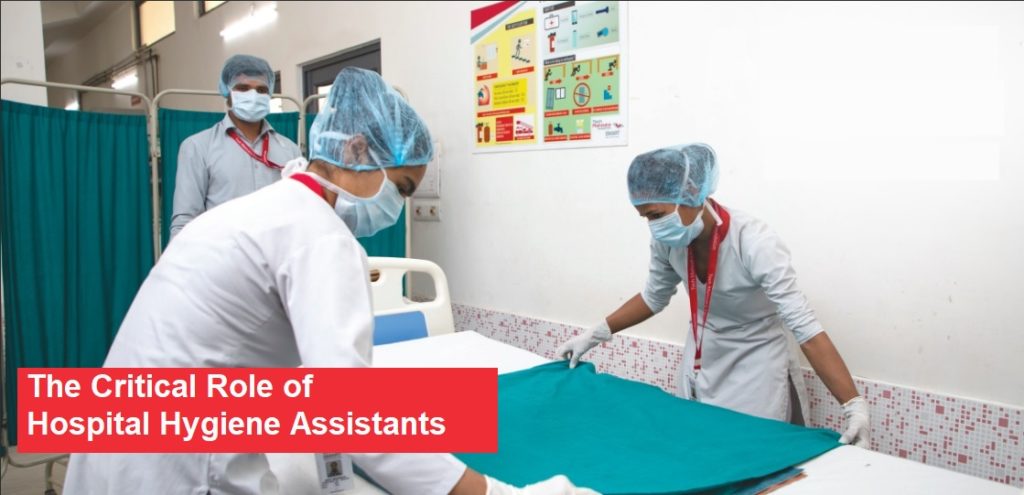 Who are the silent warriors of a hospital? They are the Healthcare Hygiene Assistants (HHAs)  who you see around yourself, besides nurses, technicians and doctors when you're at a hospital. They are the unnoticed allied healthcare professionals who are taking care of the patients all the time, as well as they are at constant war with life-threatening organisms/viruses. This battalion protects patients and their relatives from all infections that can be caused by microorganisms present in the hospital surroundings. They are well equipped with knowledge of using appropriate chemicals and pesticides and in proper dose as well as per the hospital infection controlling practices.
This article will be covering the importance of Hospital Infection Control practices for paramedics, allied health professionals as well as Hospitals or other healthcare facilities.
Role of Hospital Hygiene Assistant
Some important roles of a Hospital Hygiene Assistant are as follows – 
Maintaining Hygiene in the hospital

Many times these people work as conduits between patients, nurses and doctors.

Cleaning the medical equipment

Decontamination of medical equipment after every use

Segregation of biomedical wastes and aiding in biomedical waste management

Assisting in patient transport and patient personal hygiene care

Deep cleaning and disinfection

Pre and post fumigation steps to be followed.
Need for Professionally trained Hospital Hygiene Assistants
After understanding the roles and responsibilities of HHAs, here we are going to talk about their importance and need to maintain a healthy and clean environment of a hospital or other healthcare setup – 
To get Hospital Infection Control Impact easily:

In a hospital, besides Nurses and Doctors 30- 40% of human resources is from Hospital Hygiene Assistants, and they are the ones who need to sensitize and make aware of the importance of Hospital Infection Control Practices. But the irony is most of the hospitals don't get professionally trained candidates who are aware of the basic standards and Hospital Hygiene Protocols.

To reduce Nosocomial Infection:

Incidence of Nosocomial infection for any hospital is a very devastating experience. Chances of hospital-acquired infection will be very high if it is not sanitized, environmental hygiene and safety is not maintained, equipment used are contaminated, and if all the staff does not follow hand washing and infection control practices. 

Increase in Patient Safety:

Having trained Hospital Hygiene Assistants will aid to increase patient safety not only from hospital infections but also from any transport-related accident and incidents.

Improved Patient Satisfaction:

One of the key indicators of patient satisfaction is related to patient perception about hospital hygiene and cleanliness.

Less Supervision:

If the Hospital Hygiene Assistants are trained or upskilled, they will understand the infection control concept from the basics and will stick to follow their duties with all due diligence, resulting in less supervision from nursing staff, and they can focus more on clinical procedures and care.

Helps in Accreditation:

Set quality parameters and protocols followed by trained staff, will help hospitals to match accredited bodies like National Accreditation Board for Hospitals & Healthcare Providers (NABH) and Consortium of Accredited Healthcare Organisations (CAHO) Hospital hygiene and cleanliness related expectations easily.
Traits required to became a good Hospital Hygiene Assistant
A few important qualities that almost every hospital or healthcare clinic look for while hiring HHAs are as follows:
Infection control practices knowledge

Confidence

Patience

Attention in detail pertaining to cleaning

Empathy

Passion for patient care
Hospital Hygiene Assistant Training at SMART Academies for Healthcare
Tech Mahindra SMART Healthcare Academy understands the importance and need of professionally trained Hospital Hygiene Assistants. During the COVID-19 first and second wave when there was tremendous stress on healthcare facilities and hospitals, these SMART Academies came forward to reskill the workers who lost their job and train them on the basics of Hospital Infection Control Practices, so that they can contribute to strengthening the hospital infrastructure. But we realize that this particular training and emphasis for Hospital Infection Control practices are not required only during the pandemic but in general first prioritization. That's the reason such trained HHAs will be in demand, to meet the needs of the healthcare industry.
Training Module for Hospital infection practices at SMART Healthcare Academies
The Hospital Hygiene Assistant course curriculum at the Tech Mahindra SMART Academies for Healthcare will cover the following topics:
Donning and doffing of PPE

Hand Hygiene

Infection control practices

Biomedical waste management

Deep cleaning and Decontamination protocols

Disinfectants and chemicals to be used

Fumigation process

Patient transport

Patient person hygiene

Self-protection and prevention.
Infection control practices, hygiene awareness, sanitation protocols are needed to avoid the spread of any further infectious and communicable diseases. With this in mind, as a leading Healthcare Institute, we are contributing to training and skilling the unemployed youth on basic infection control procedures so that they can be placed at hospitals and other healthcare setups. We are also upskilling the existing paramedics, allied healthcare professionals and hospital staff on Hospital Infection Control practices, as a contribution to continuing the war against any communicable disease.