Healthcare is one of the crucial sectors for every country and this is true in the case of India as well. The medical system followed in India is famous all around the globe since Indian medicine has set several benchmarks in the health sector.
Starting from the post of general duty assistant to the post of a physician, there is a high demand for healthcare workers in all parts of the healthcare industry. However, there are some misconceptions attached to a career in healthcare. Let us understand some realities about the misconceptions.
A misconception is an idea or thought that is wrong and not based on any evidence.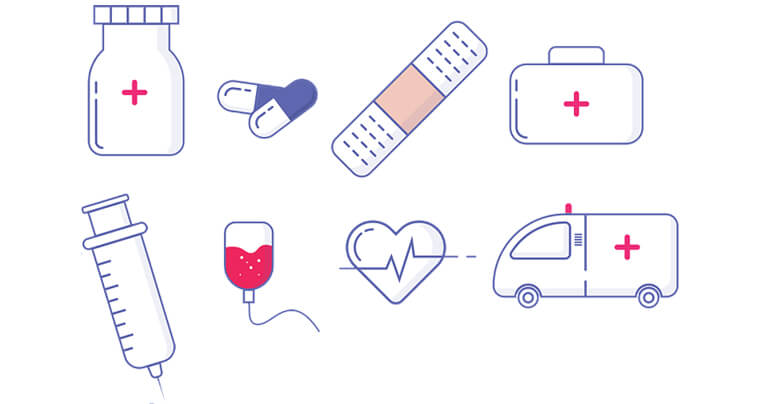 Common Misconceptions about Working in Healthcare
1. You can only work in a hospital: The common misconception about the healthcare industry is that most of the students think that they have to work in hospitals after stepping up in the healthcare sector.
Reality – Rather they can work in a variety of areas including hospitals. Common workplace s are:
Private doctor's offices
Pharmacies
Medical research labs
Colleges and schools
Outpatient surgery centres
Health insurance companies
Rehabilitation centres
Nursing homes
Assisted living facilities
2. Less variety of job opportunities: This is another important concern of students about the healthcare sector that there are very fewer job opportunities for them in this field.
Reality – Not all healthcare professionals are doctors and nurses. Here are a few popular healthcare job titles:
Administrative healthcare
Clinical healthcare
Support healthcare
Technical healthcare
Administrative healthcare
Without planning and administrative input, it would be difficult for doctors and other medical professionals to deliver their services. Some people in administrative roles are responsible for scheduling appointments, while others may be in charge of running an office, nursing home, or hospital. Some job titles include:
Account Executive
Administrative medical assistant
Administrator
Case Manager
Clinical Coordinator
Customer Service Representative
Medical Receptionist
Clinical healthcare
Ambulatory Nurse
Audiologist
Dentist
Doctor
Anaesthesiologist
Support healthcare
Do not underestimate the importance of people in support roles; they are essential to proving medical services, healthcare support job titles are-
Athletic trainer
Certified medical assistant
Certified nurse assistant
Clinical research coordinator
Dietician
Exercise physiotherapist
Nutritionist
Pharmacy technician
Technical healthcare
Also playing a key role are the technicians who take blood, do sonograms and perform other medical tasks. Some titles are –
Occupational therapy assistant
Health Educator
Medical record technician
These all are the paramedical health workers who work in various departments of the hospitals indirectly related to patient care.
3. You have to work crazy hours
Reality – Generally, healthcare professionals work as per the institutional policies and labour act. The majority of healthcare professionals work 40 hours per week or less. However, they are paid extra allowances and certain privileges for working long hours. Only in emergency situations, doctors and nurses have to work for long hours. They work hard and have a huge impact on the lives of their patients.
4. Less room for upward movement
Reality – In hospital settings, people in different positions work together as a team for patient care. However, in large hospital, each of such positions meant to be a higher step from the last job. In large hospital settings, there are a variety of jobs titles with the scope of promotion and progress in the career.
Healthcare is such a field that always pay a reward to education. After getting a certificate or an extra degree in the respective field from a recognised institution, they are eligible for numerous job options. Most institutions support their employees to acquire advanced education and gain the necessary skill sets.
5. Working in healthcare is dirty
Reality – There is no doubt that some careers in health care have to deal with patient's body fluids, blood and handling waste etc. But in spite of that, there is a large number of other positions that they do not deal with messes. People working in pharmacies, administrative levels or in record departments spent very less time on scrubbing up and more time doing clean work.
There are standard precautions for those who come in contact with the patient's body fluid, blood and other waste. Some of the standards precautions are:
Hand hygiene
Use of personal protective equipment (e.g., gloves, masks, eyewear)
Respiratory hygiene/cough etiquette
Sharps safety (engineering and work practice controls)
Safe injection practices (i.e. aseptic technique for parenteral medications)
Sterile instruments and devices
6. Only older employees get higher admin Jobs
Reality – Upper-level positions can be achieved by any employee at any age with the right education and experience. In most of the smaller hospitals, it is not unusual to find the CEO under the age of 40. Healthcare industry has massive job opportunities that are never-ending. If the young generation is determined to their goals, they achieve higher positions at any time through their skills.
7. Artificial intelligence and machine learning will take away jobs
Reality – These technology tools will not replace clinicians and paramedical staff. However, they will augment and extend their capabilities similar to the way in which a smartphone extends capabilities in work and everyday life. Artificial intelligence is going to have an increasing role in the future of healthcare.
Conclusion
The health sector offers a wide range of employment opportunities, not only to the candidates who have completed medical or paramedical courses, but also offers employment opportunities to candidates belonging to other fields of education as well.