With advanced technological development in medical science and an increase in public demand, modern surgical procedures are becoming more complex and expensive. Generally, in mid-size to larger hospitals, 50% of beds are allocated to the surgical department, surgical facilities can sometimes only be an option, and serves as a central life-saving activity. The operation or surgical procedures success and failures not only influences the hospital reputation but also impacts its operations and sustainability.
Operation Theatre Team
The operation theatre team is responsible for the well-being of the patient throughout the
operation. The team members are:
Surgeon, Assistant Surgeon
Anaesthetist
Operation Theatre Nurse
Operation Theatre technicians
Patient Care Attendants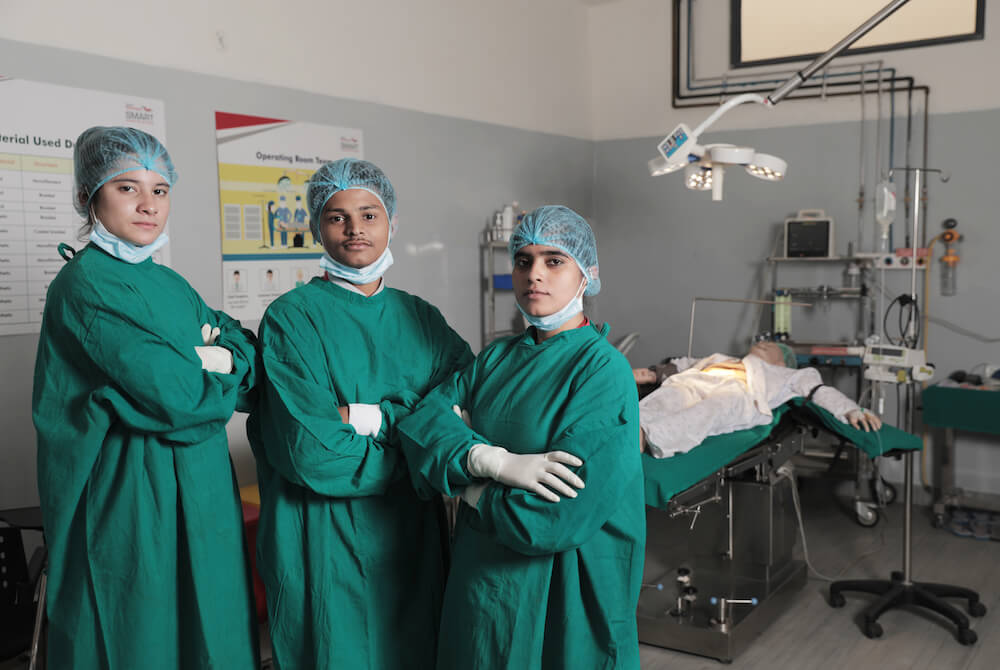 Need for Skilled Operation Theatre Technicians or Technologists
The survey by the Health Ministry's National Institute for Allied Health Science and the Public Health Foundation of India in December 2012, highlighted the shortage of skilled and qualified paramedic staff in India. It mentions India is short by 8.5 Anaesthesia and Operation Theatre Technicians.
The number of OT technicians required in the hospital depends on the number of operation theatres, functional hours and as well as the type of speciality. Generally, if one OT is functional for 24 hours, then the number of technicians required is 3 per OT table in the hospital. Most of the mid-size hospitals have 3 to 4 Operation theatres.
Skilled OT technicians not only improves the turnaround time and utilization of the operation theatre, but also brings efficiency in the surgical team, and impacts the patient-service quality parameters and feedback.
What does an Operation Theatre Technician do?
Operation Theatre Technologist or Technician staff are not only aware of advanced equipment and instruments used in the operation theatre, but are also aware of their optimal use on a surgical patient, and respond to a certain extent for patient's life and health in many ways. These technologists can also provide services in life-saving and critical places, if need may be.
Roles and Responsibilities of Operation Theatre Technicians:
The various roles and responsibilities of an Operation Theatre Technician are:
Ensure working of OT equipment like anaesthesia machine, Heart-lung machine and ventilator equipment

Maintenance of operation theatre records

Conduct regular physical verification of all the OT equipment

Ensure that a proper and regular supply of oxygen and suction is maintained all the time

Responsible for fumigation of OT's and their documentation

Ensure working of centralized oxygen piping

Maintenance of OT temperature and humidity as per the protocols

Scavenging system for removal of anaesthetic gases

To verify the functioning of the anaesthesia machine and breathing system

Checking and confirming all instruments and medicines are in stock and loaded on the trolley for the surgery

Assists in the patient transfer or shifting from stretcher to the table and also sometimes to and fro from OT to hospital room

Handling the C-ARM Machines during the surgery

Assisting the surgeon during the surgical procedure

Patient monitoring during pre-operative and Post-operative phase

Assisting the anaesthesiologist in providing drugs, IV fluids, blood transfusion, and preparing drugs.
How to become an Operation Theatre Technician?
To become an OTT, all you need to have is to complete Class 12 (Science) with Physics, Chemistry and Biology from a recognised board or university and then enrol into Tech Mahindra SMART Academy for Healthcare. These Academies are located in Delhi, Mohali, Mumbai and Pune, and are equipped with state-of-the-art infrastructure and expert faculty. Also, there is a placement team at each Academy that makes sure that each student gets placement assistance after the completion of their course.
Apart from the above qualification, aspirants must also have the zeal to become a skilled Operation Theatre Technician, such as:
Love challenging roles, due to uncertainty associated with surgical procedures

Dynamic profession, since each case and patient is different

Men of action/rather than words – "Talk with Hands"

A team player

Adaptability and flexibility to work long hours

Compassion towards the patients
The other factors that contribute to become a successful operation theatre technician are – Clinical and Pharmacological Knowledge, Infection Control Practices, Communication Skills, Behavioural Skills, Quick and alert, Courageous, Attention in detail or Attentive, should be able to comply with the OT Protocols and regulations (Ethics/Dedication).
Operation Theatre Technician course at SMART Academies
The Operation Theatre Technician course curriculum at Tech Mahindra SMART Academies for Healthcare is designed to provide adequate knowledge about the usage of various diagnostic equipment such as – ventilators, monitors, and defibrillators, C-arm etc. Also, the SMART Academies focus on the practical aspects or hands-on-training on how to set up the operation theatre and the instrument trolleys, as well as how to place the table, the different types of patient positioning, etc. 
The OTT training will also train you to work under the supervision of experienced and senior doctors. The training will include how to manage and control the infection policy and procedures inside the operation theatre. Patient safety, infection control practices, emergency pharmacology, OT documentation are also considered important modules in this course.
The candidate who has applied for this career learns to perform examinations and tests that help with curing the diseases in patients and also provides them with the skills that are needed to take care of all the advanced equipment.
What Does Future Hold?
A career in operation theatre knowledge is always growing and continuously evolving to meet the demands of the patients, as well as the growing need for ethical healthcare.
The scope of the career is restricted to hospitals but you can always grow into a bigger job role once you have enough experience in this field. The remuneration packages of these OTT professionals are based on one's qualification, experience, knowledge as well as reputation of the hospital they are working in. Career starts with OT assistants, and progress to technicians, senior technicians, OT supervisors, and OT technical officers.
Besides managing the operation theatre and conducting tests, a wider prospect would be to get into organ transplant handling, special baby care unit handling, managing the cancer units, and so on. They can also be made to research and mentor the new staff. The doctors, surgeons, and other physicians may also privately hire some of the operation theatre technicians in their clinics.
The difference between finding a job and finding a career is finding a purpose. As an operation theatre technician, not just are you developing a skillset, you are also going to help save the lives of many people. With the experience of handling more and more patients, you will certainly see growth and satisfaction. 
As a healthcare hero, you will serve the greater good and be closely working with medical technology that is rapidly advancing and innovating. The landscape of healthcare is changing and you can be a part of it. The future is now!