Tech Mahindra SMART Academy for Digital Technologies, Mohali
Join Tech Mahindra SMART Academy for Digital Technologies, Mohali and kick start your career in the Digital Tech Industry
Admissions open - Know more
Explore the Digital Technologies courses available at SMART Academy, Mohali
Facilities & Infrastructure
The SMART Digital Technologies Academy is located in the vibrant city of Mohali and is equipped with modern computer labs, latest software and smart classrooms. Students also acquire employability soft skills and English skills.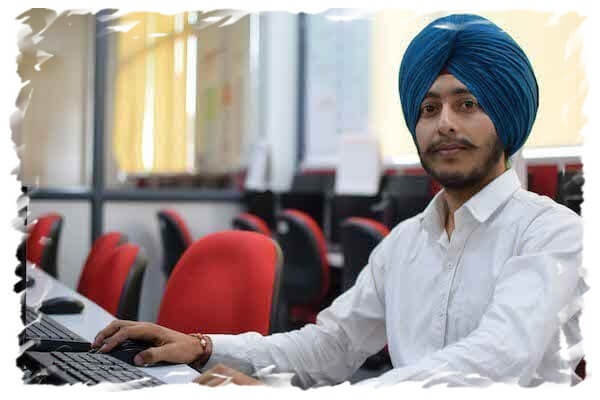 Following the success of SMART Academy for Digital Technologies in Visakhapatnam, Tech Mahindra Foundation launched its third Digital Technologies Academy in Mohali. The Institute is well equipped with the latest software, computer labs, smart classrooms, and expert faculties to help train individuals for the growing digital industry.
The Academy provides quality education through various career-oriented certificate courses including Graphic and Web Designing, Web Development, UI-UX etc. Not just that, the Academy trains youth in English, IT, soft skills and personality development so that they become job-ready before completion of their course.
The faculty members of SMART Academy, Mohali are highly trained experts who are ready to set a standard of excellence in the training of Digital Technology professionals. On completion of the courses, students will be guided by a committed placement team of the Academy to support placements.
Know more from our students
"I have completed the AWS re/Start Course on Cloud Computing Technology from Tech Mahindra SMART Academy for Digital Technologies, Mohali. This course has helped me upgrade my skills with hands-on training and detailed manuals. With the continuous efforts and guidance from our faculty, I got placed at Telus International and I am thankful to all of them! I'm proud of being associated with Tech Mahindra Foundation that they provided me with the opportunity to start my career as AWS Cloud Practitioner."
Gurleen Kaur
ID: SA02038
PRESENT EMPLOYER: Telus International, Noida
Course: AWS re/Start Course on Cloud Computing
"I am happy and feel confident after completing the Graphic Designing Course from Tech Mahindra SMART Academy for Digital Technologies in Mohali. Our faculty at the Academy is polite and supportive as they constantly guided me throughout the course. Due to their efforts, I could learn so much. I would like to thank Tech Mahindra Foundation for giving me the chance to prove myself and bringing transformation in my life."
Sukhpreet Singh
ID: SA02030
PRESENT EMPLOYER: Rhodium Studio, Mohali
Course: Graphic Design Course
"I was fortunate enough to be a part of Tech Mahindra SMART Academy for Digital Technologies, Mohali. The Academy helped me to grow as a skilled Graphic Designer and our trainers left no stone unturned to prepare us for the Digital Tech industry. It was a wonderful learning experience at the Academy with a good prolific industry. Respect, love and devotion for the entire staff members of the department. "
Shubneet Verma
ID: SA01618
PRESENT EMPLOYER: Wire Monster
Course: Graphic Design
"If you are looking for a fast-growing career and want to stand out from the crowd, then Tech Mahindra SMART Academy for Digital Technologies, Mohali is the answer. The expert trainers and state-of-the-art facilities in the Academy gave me a chance to empower myself in every aspect. The SMART Digital Academy atmosphere is full of positive vibes and opportunities."
Rajvir Kaur
ID: SA01465
PRESENT EMPLOYER: Egiyok - Mohali
Course: Graphic Design
"I had a wonderful experience at the SMART Academy for Digital Technologies, Mohali and I am thankful to the Foundation, the hardworking and dedicated faculty members and the placement team who stood up to its reputation and helped me bag an opportunity at 'Atulya'. This institute gave me an opportunity to learn and fast track my career on the right path."
Rajit Singh
ID: SA01798
PRESENT EMPLOYER: Atulya- Mohali
Course: Digital Marketing
"Tech Mahindra SMART Academy for Digital Technologies, Mohali is a place where you can find an amalgamation of learning, fun, culture and many such life preaching activities. All members of Digital Academy have always guided me and supported me to get proper industrial exposure. I am thankful to Placement cell, for providing me with a platform to enhance my skills and an opportunity to showcase them."
Bhoopendra Singh
ID: SA01200
PRESENT EMPLOYER: Base2Brand Pvt. Ltd.
"My experience at Tech Mahindra Foundation SMART Academy for Digital Technologies, Mohali is great and memorable. The faculty at Academy helped me to enhance my academic and interpersonal skills. I am thankful to the Placement Department for providing a platform to enhance my skills and an opportunity to showcase them."
Swati
ID: SA01389
PRESENT EMPLOYER: Egiyok - Mohali
"I feel great studying at Tech Mahindra SMART Academy for Digital Technologies, Mohali and getting great opportunities as well as support from faculties & placement team. It is a dream come true, being a TMDA graduate and getting to work with Quality Printers at the beginning of my career."
Parveen Kumar
ID: SA01746
PRESENT EMPLOYER: Quality Printers